When it comes to fast-food, making healthy choices can feel like a daunting task. However, even though it can be difficult, it's certainly not impossible. In fact, we spoke to expert dietitians to uncover the healthy Burger King orders you can make next time you go. Whether you're looking to satisfy your craving for BK or seeking choices that align with your nutrition goals, these RD-approved options will show you that fast-food can still be a part of a balanced and nutritious diet.
Making a healthy choice when eating at fast-food establishments involves several key factors. First and foremost, it's important to consider the nutritional content of the menu items. Here were the big themes from our nutrition experts when eating at Burger King:
Protein: Choose options that include lean protein.
Portion size: Portion control plays a big role in making healthier fast food choices. Select smaller-sized meals or opt for healthier side orders to manage calorie intake.
Customize: Be mindful of condiments that may add extra calories.
Sugar-free beverages: Pair your selection with water or unsweetened beverages to avoid added sugars.
By opting for these healthier menu options, you can enjoy a satisfying meal at Burger King while still making choices that support your well-being. Let's hear from our experts to find out which healthy Burger King orders they approve.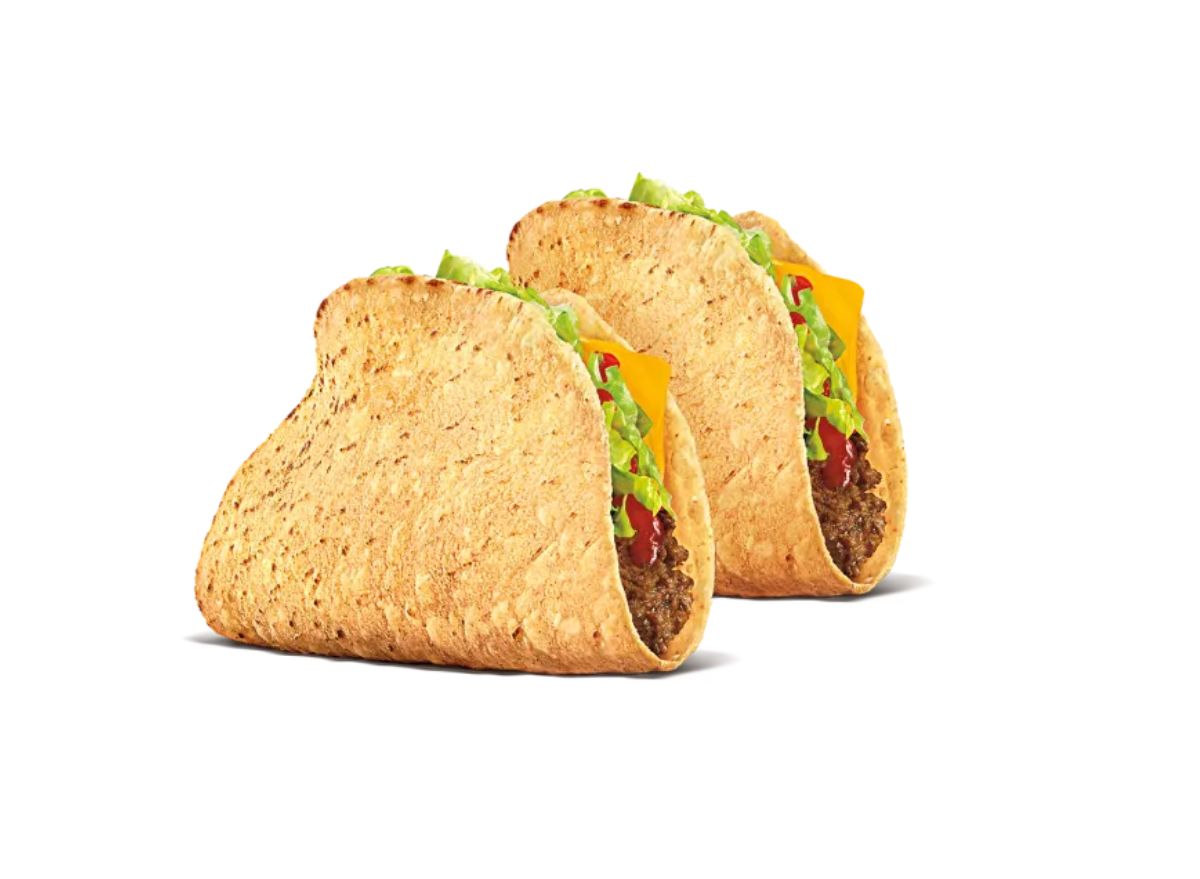 PER TACO: 170 calories, 9 g total fat (3 g saturated fat), 360 mg sodium, 17 g carbs, (2 g fiber, 1 g sugar), 5 g protein
Ashley Harpst, RD, owner of Go For The Gold Nutrition, shares her go-to order at BK. "In San Diego, I like to order a Beef Taco with salad and apple sauce for lunch at Burger King. It's a small meal, but the salad and apple sauce increases the amount of fiber and the protein from the beef makes this meal more satisfying and balanced. The combination of fiber and protein helps me stay full throughout the afternoon."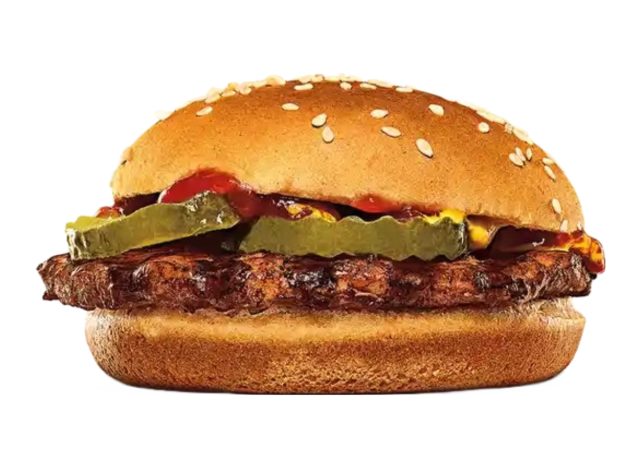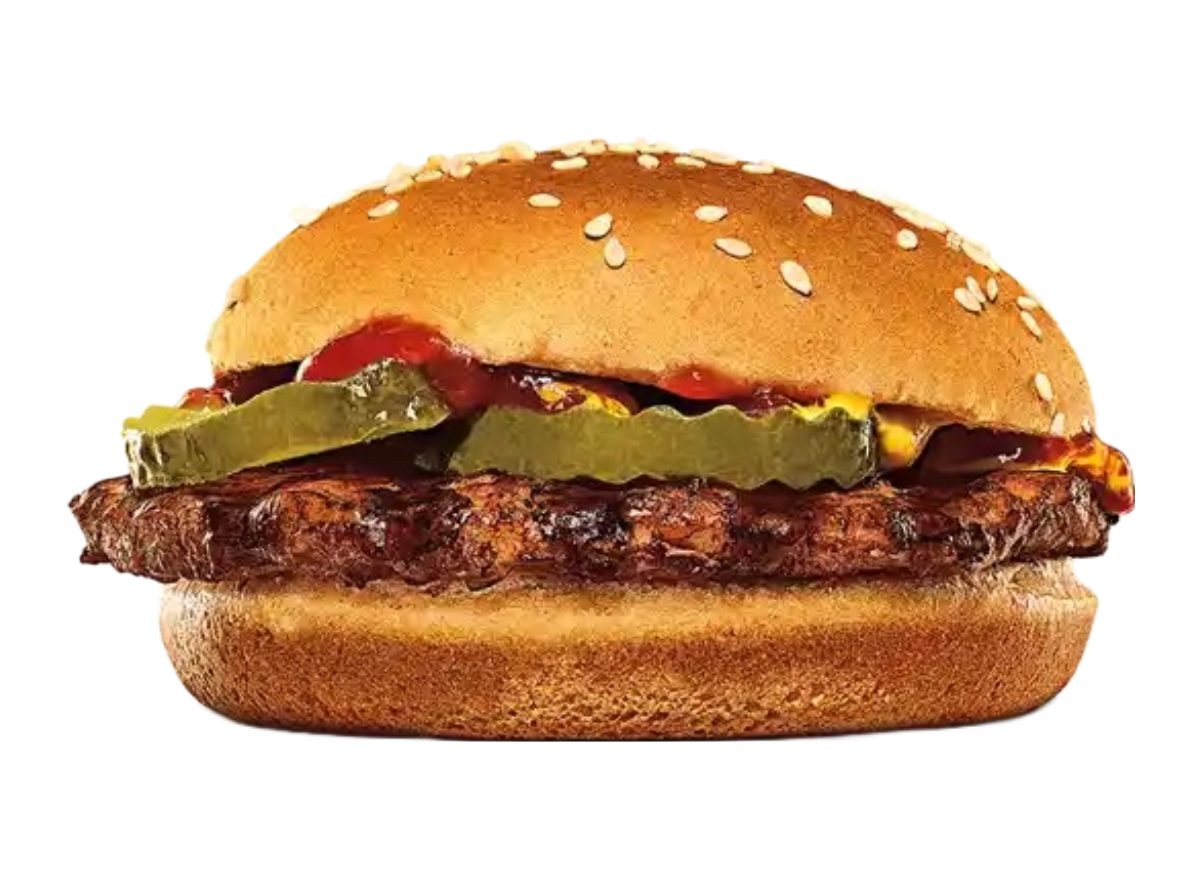 PER HAMBURGER: 260 calories, 10 g total fat (3.5 g saturated fat), 569 mg sodium, 26 g carbs, (1 g fiber, 6 g sugar), 13 g protein
"When eating at any fast-food establishment, it is important to consider calories, sodium, and fat, and anything else for your medical conditions. A regular hamburger is a good choice when going to Burger King since it has 260 calories, 10 grams of fat, and 569 milligrams of sodium. The calories and fat are on the lower side and sodium is a moderate amount," says Jessie Carpenter, MA, MS, RD, LD.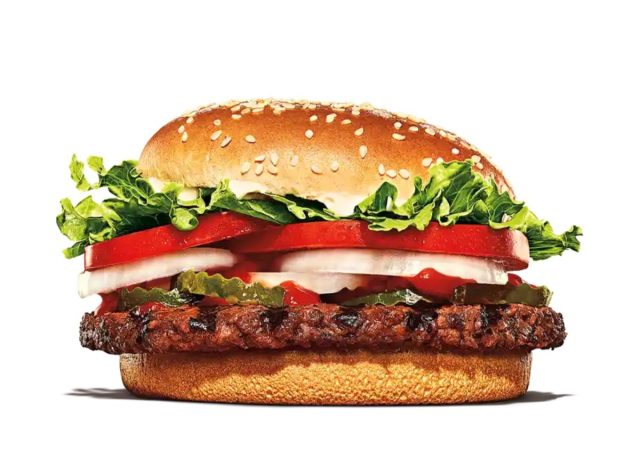 PER ORDER: 630 calories, 34 g total fat (11 g saturated fat), 1,080 mg sodium, 58 g carbs, (4 g fiber, 12 g sugar), 25 g protein
"Choosing an Impossible Whopper with no mayo can be a healthier choice when you're having it your way at BK. Though both types of Whoppers are high in sodium, the Impossible Burger has less sodium, less saturated fat, and zero cholesterol, making it a better-for-you option," explains Rhyan Geiger, RDN.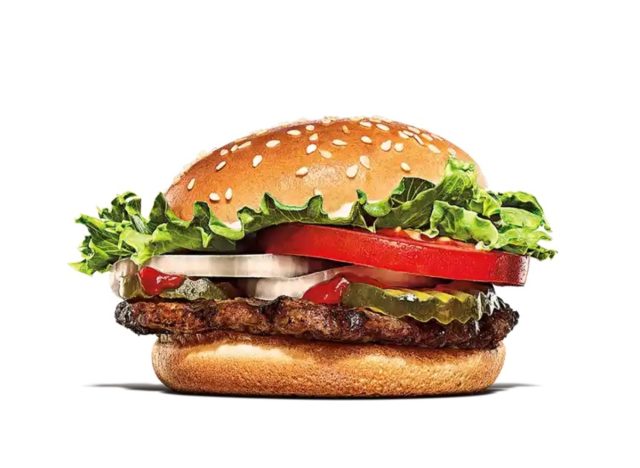 PER JUNIOR: 330 calories, 18 g total fat (5 g saturated fat), 600 mg sodium, 30 g carbs, (3 g fiber, 8 g sugar), 17 g protein
"The Whopper Jr. is a healthier option to get at Burger King due to the lower sodium content. It has 390 milligrams of sodium per serving compared to the cheeseburger, which has 560 milligrams per serving. It's especially important to control sodium intake for individuals with chronic conditions such as cardiovascular and kidney disease," shares Wan Na Chun, MPH, RD.
Felicia Newell, RD, MSc, registered dietitian and owner of FN Health/Sustain Nutrition agrees. "When I go to Burger King, I get a Whopper Jr. with a side salad. It's under 500 calories, has a reasonable balance of carbs and protein, and is relatively lower in sodium compared to other menu items. For a fast-food meal, it is pretty well balanced and can certainly fit into an overall nutritious and balanced diet every once in a while."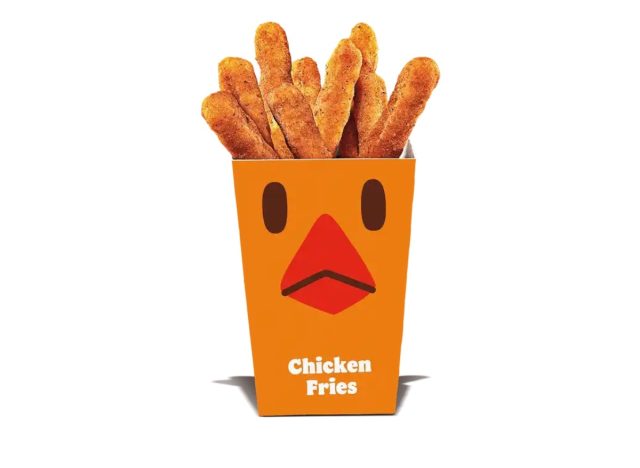 PER 8 FRIES: 256 calories, 18 g total fat (3 g saturated fat), 500 mg sodium, 13 g carbs, (1 g fiber, 0 g sugar), 14 g protein
"While they may not be the most nutrient-dense food, Chicken Fries are lower in calories and saturated fat than many of the beef options. They also provide a good source of protein, which is essential for maintaining muscle mass and supporting overall health. To make your meal more balanced, pair the chicken fries with a side salad to boost the fiber and nutrient content," advises Jessie Hulsey RD, LD, an Atlanta-based registered dietitian.6254a4d1642c605c54bf1cab17d50f1e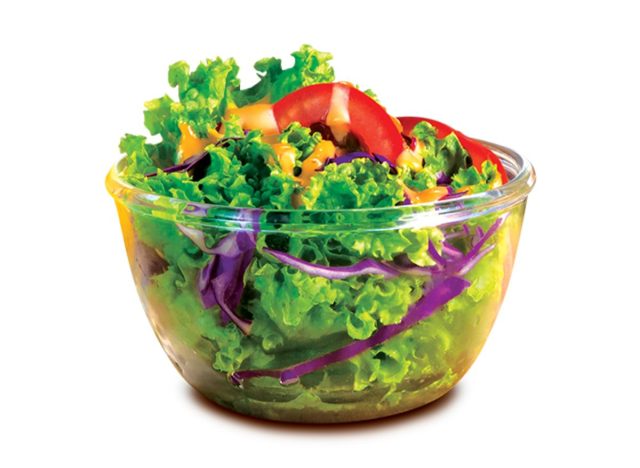 PER SIDE SALAD: 320 calories, 32 g total fat (6 g saturated fat), 340 mg sodium, 5 g carbs, (1 g fiber, 4 g sugar), 5 g protein
"Choose a side salad instead of fries to increase your vegetable intake. Be cautious with dressings, and consider using them sparingly or opting for a lighter dressing," says Crystal Scott, RD, registered dietitian from Top Nutrition Coaching.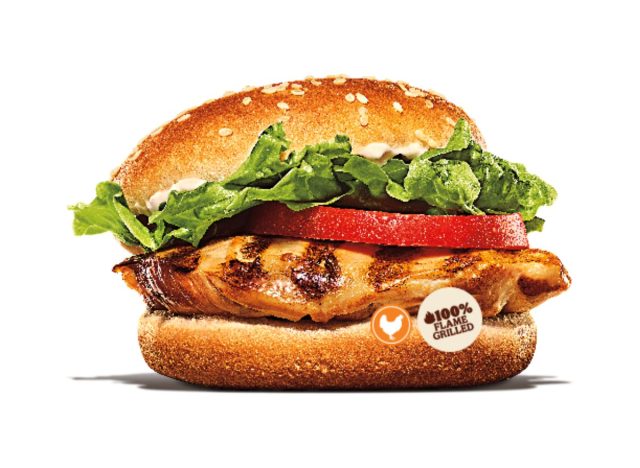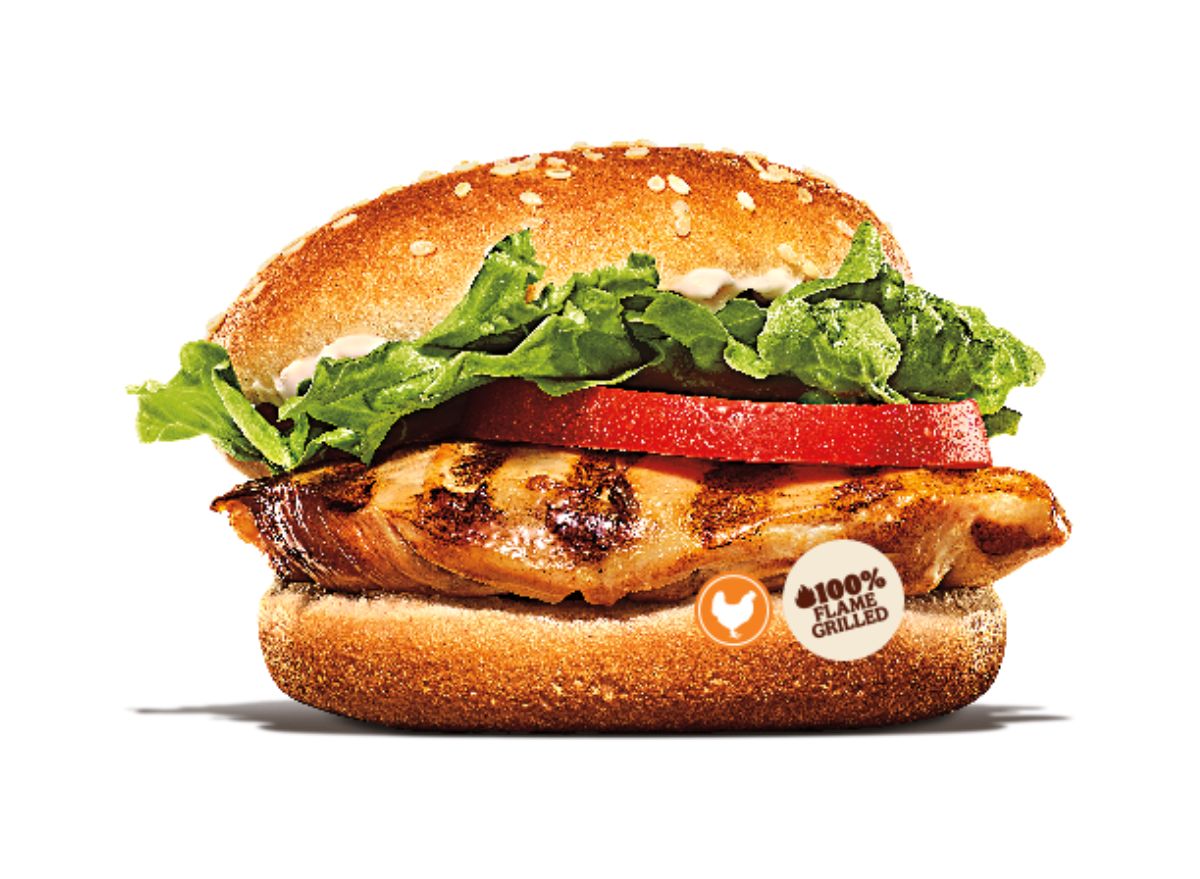 PER ORDER: 420 calories, 18 g total fat (3 g saturated fat), 700 mg sodium, 35 g carbs, (2 g fiber, 6 g sugar), 32 g protein
"This grilled chicken sandwich without mayo is a lower-calorie alternative to the classic Whopper. It contains fewer calories and less fat. You can customize your order to make it healthier. For instance, ask for no mayo or sauce on your sandwich, choose whole-grain buns when available, and add extra vegetables," Scott tells us.
link