Eating around the holidays can invoke a lot of stress and anxiety. We often think, "I don't want to blow my diet and fall off track." But being around copious amounts of fun foods, desserts, sweets, and snack foods can make it challenging to find balance on your plate. But what if going to a holiday party meant that you could enjoy a balanced meal without feeling like you have "blown your diet?"
We talked directly to nutrition experts to find out what their game plan for the holiday season is this year. They all shared common beliefs that indulging in moderation, while also bringing a dish they feel good about helps them balance holiday parties with healthy nutrition choices.
Why dietitians bring these options
"Bringing a veggie dish to potlucks ensures there's more of a variety of options to make a balanced meal when paired with the usual abundance of meat and casserole dishes," Bri Bell, RD, of Frugal Minimalist Kitchen shared.
Cindy Chou, RDN, chef and registered dietitian at The Sound of Cooking and Cancer Nutrition in a Bowl, reports that she loves colorful meals. She explains that focusing on fruits and veggies ensures that the meal "includes potassium, which helps to support normal blood pressure, and fiber to help with your digestion after holiday meals."
Dietitian and culinary nutritionist KeyVion Miller RDN, LDN, claims she loves bringing a veggie dish that "provides fiber and potassium, which are important nutrients for anyone struggling with diabetes, high blood pressure, and high cholesterol."
"When you're at a holiday gathering, it's not always easy to find a wholesome snack," says Amy Gorin, a plant-based registered dietitian in Stamford, CT. That's why she recommends choosing options that are high in satiating protein and filling fiber.
And what exactly are dietitians bringing to holiday parties this year?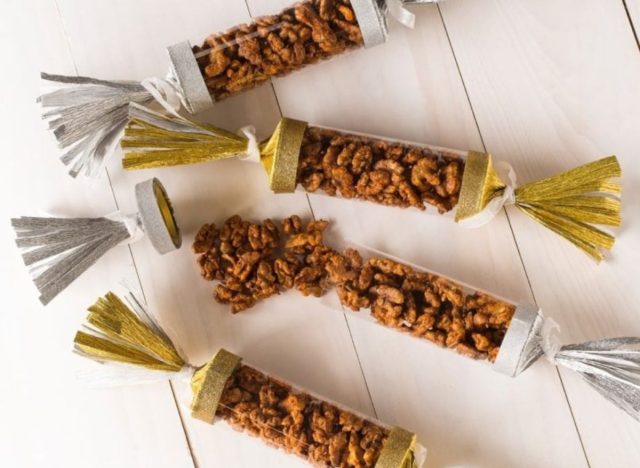 Samantha Cassetty, MS, RD, nutrition and wellness expert and co-author of Sugar Shock (and brand partner to California Walnuts) explained why spiced walnuts are one of her favorite snacks.
"Walnuts are the only nut that provides an excellent source of plant-based omega-3 fat ALA, and they also have 4 grams of protein and 2 grams of fiber per ounce. Besides that, they're suitable for many eaters, including vegans and vegetarians, so they're a great party snack. Plus, the 'RD' in me feels great about the fact that walnuts are tied to so many health benefits," Cassetty said.
"One recent study found that people who consistently eat walnuts have other heart-healthy behaviors, such as better diet quality and higher levels of physical activity, suggesting that walnuts are a bridge to better health. So, I hope people get hooked on them," she continued.
Get the recipe for Cajun Spiced Walnuts.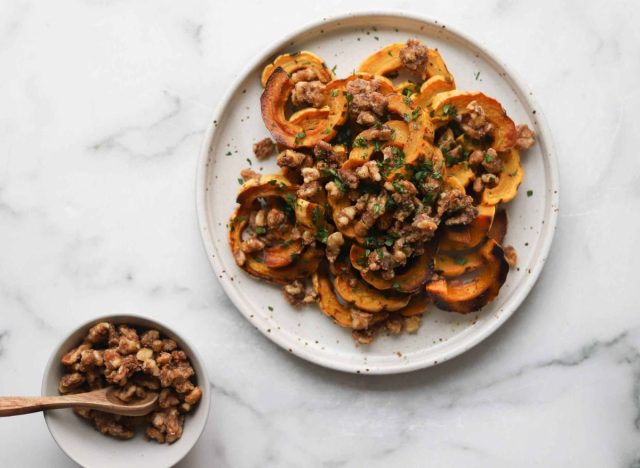 "I'm bringing my signature side dish: roasted delicata squash with walnut crumble! This no-fuss and deliciously nutty roasted delicata squash with walnut crumble is an easy, comforting side dish everyone will love. And you'll be delighted to know that delicata squash does not require peeling. Just slice and get roasting," Chef Julie Andrews, MS, RDN, FAND, founder of The Healthy Epicurean, tells Eat This, Not That!
Get Andrew's recipe for Delicata Squash with Walnut Crumble.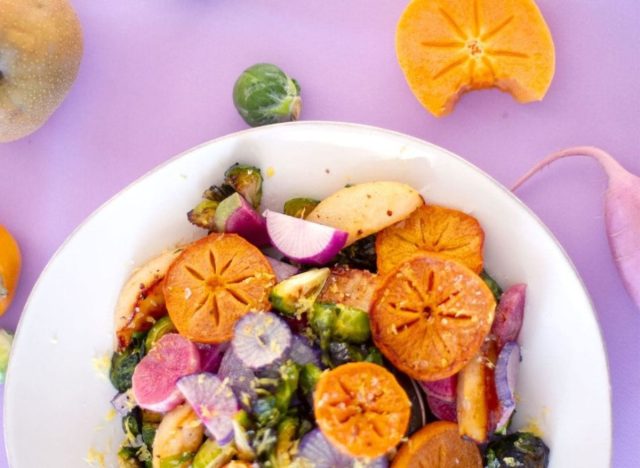 This seasonal side dish is Chou's most requested dish for holiday parties.
"It is packed with sweet and savory goodness as well as nourishing ingredients. Fuyu persimmon is high in potassium, which helps to support normal blood pressure," Chou explains. "This dish is also a good source of fiber providing 6 grams per serving. Fiber helps with digestion after holiday meals. The addition of fresh lemon juice to finish it off also adds antioxidant properties to this flavor-packed dish!"
Get Chou's recipe for Fuyu Persimmon.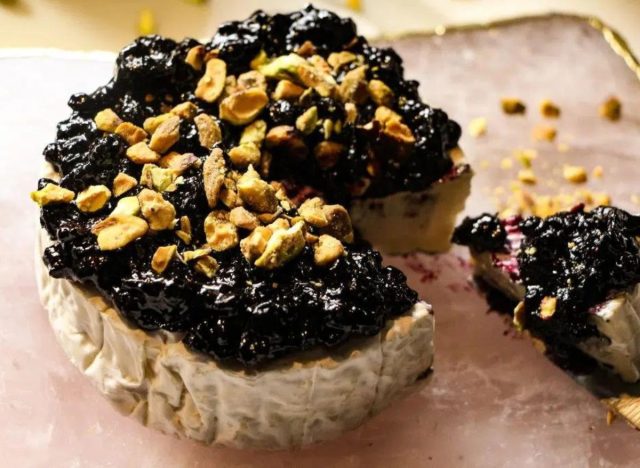 "My go-to easy but fancy appetizer recipe for parties is jam-topped brie. It always looks so impressive and beautiful yet takes just minutes to prepare," says Gorin. "I like to serve it with sliced apples and pears to add some healthier fare to the appetizer table. This appetizer offers satiating protein from the cheese, filling fiber from the nuts, and you also get antioxidants from the berry jam."
Get Gorin's recipe for Jam-topped Brie.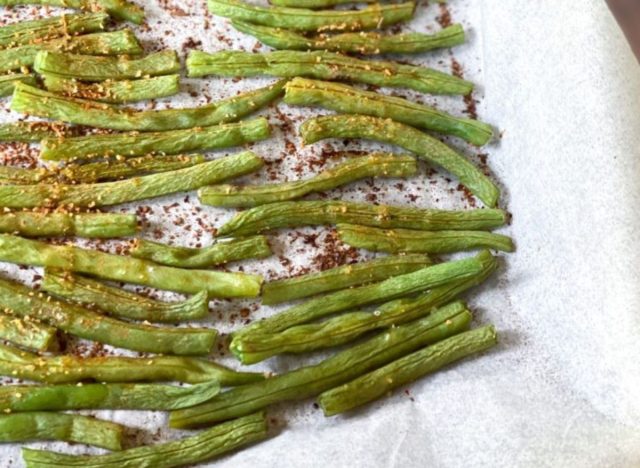 "Holidays parties don't have a lack of meat, carbs, and desserts. Typically, they do lack vegetables," says Miller. "I am bringing a simple side dish using frozen green beans. Frozen vegetables are packed at their peak of freshness."
Get Miller's recipe for Cajun Green Beans.
"These gluten-free bacon wrapped meatballs are a delicious protein packed appetizer that I've been loving! You can make them with beef, turkey or ground chicken in the air fryer," Lara Clevenger, MSH, RD, states.
Get Clevenger's recipe for Bacon-wrapped Meatballs.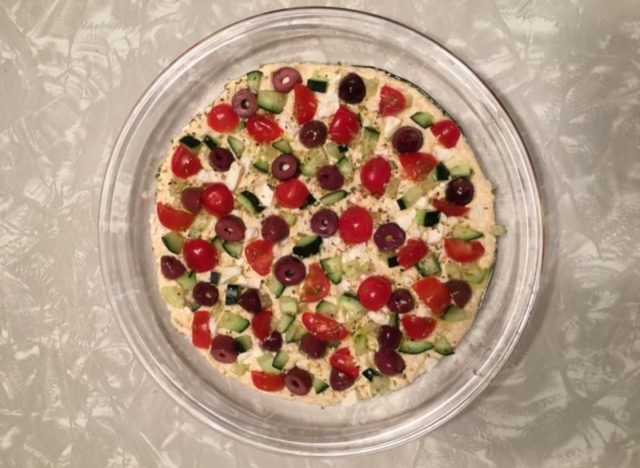 Lisa Andrews, MEd, RD, LD, and CEO of Sound Bites Nutrition, explains that her go-to holiday party dish is a layered hummus dip.
"It's a great dish for vegetarians or vegans if you leave [out] the cheese, and provides fiber, flavor, and phytochemicals," says Andrews. "Serve with pepper strips, pita chips or a choice of crackers. The plate comes home empty every time!"
Get Andrew's recipe for Layered Hummus.
Michelle Nelson, RDN, told us how she fits in vegetables in a fun way during the holiday season with her cauliflower mac and cheese recipe.6254a4d1642c605c54bf1cab17d50f1e
"I love this recipe for a couple of reasons. It provides a vegetable packed with vitamin C to your plate. You can easily add your choice of pasta to the dish for that sense of nostalgic Mac and cheese. I've added whole wheat penne to mine before for the fiber! Perfect pair!" Nelson exclaimed.
Get Nelson's recipe for Cauliflower Mac & Cheese.
link