When you're in the mood for some fast Chinese-inspired food, Panda Express can quickly satiate your cravings. This fast-food chain has humble beginnings dating back to 1983 when Peggy and Andrew Cherng started Panda Express in Glendale, California as a way to support their family. Fast forwarding almost four decades later, Panda Express opened its 2,000th store in 2020. The beloved restaurant says it works to continually provide innovation in the realm of Chinese American food, and its popularity certainly proves that it's been successful so far.
But before you head to Panda Express, it's important to remember that like most fast-food menus, you'll be faced with plenty of items high in calories, fat, sodium, and saturated fat. For those who want the flavors of their favorite Chinese food but want to also stick to their health goals, we've rounded up the best Panda Express healthy options you can choose from next time you pay the restaurant a visit.
How to order your meal at Panda Express
Panda Express works a bit differently than most fast-food chains, so it may be helpful to know what you're getting into ahead of time. When you walk into the chain (or start your online order), you'll first be asked what type of meal you want, with the following options:
Bowl: 1 side and 1 entree
Plate: 1 side and 2 entrees
Bigger Plate: 1 side and 3 entrees
Family Meal: 2 large sides and 3 large entrees
The choices for sides, entrees, and appetizers vary depending on the location. In order to build our list of the healthiest Panda Express orders, it was best to separate your options into healthy entrees, as well as healthy sides. That way you can know the nutritional value of each item, and build your desired meal from there.
Without further ado, here are 8 Panda Express healthy options, chosen by expert dietitian Mary Sabat MS, RDN, LD. Then, for more healthy tips for dining out, check out The Best & Worst Fast-Food Salads.
Healthiest Panda Express Entrees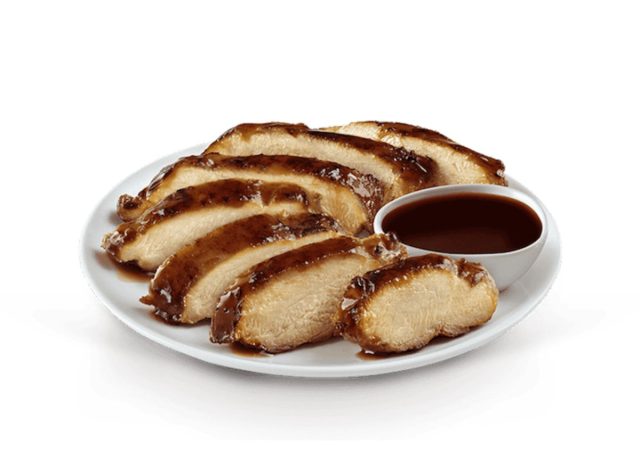 Nutrition: 340 calories, 13 g fat (3.5 g saturated fat), 630 mg sodium, 14 g carbs (3 g fiber, 10 g sugar), 41 g protein
Chicken teriyaki is one of the most classically beloved orders associated with Chinese takeout, but the nutritional value can be pretty hit or miss, depending on where you're dining. Thankfully, the Chicken Teriyaki from Panda Express is one of their healthier options.
"This dish, which is made with chicken breast that has been marinated in a teriyaki sauce and grilled, is high in protein and low in fat, and it's a good option if you're looking for a lean source of protein," says Sabat.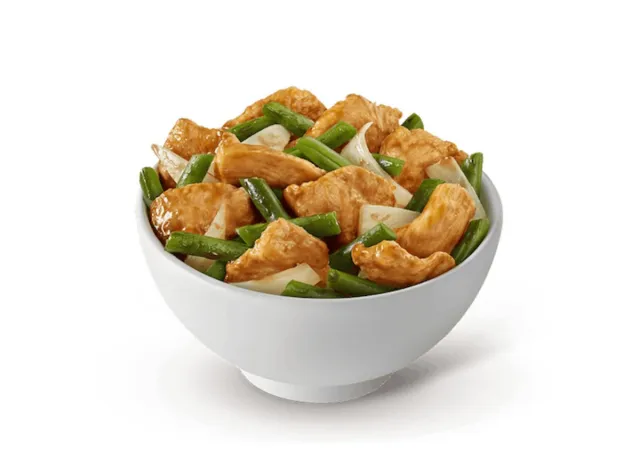 Nutrition: 210 calories, 12 g fat (2 g saturated fat), 560 mg sodium, 13 g carbs (5 g fiber, 5 g sugar), 12 g protein
The String Bean Chicken Breast entree from Panda Express is one of the lower-calorie entrees, but it still packs in 12 grams of protein per meal.
"This dish is made with chicken breast, string beans, and onions, and it's a good source of protein and fiber," says Sabat. "It's also relatively low in fat, making it a healthier option." Pair this chicken with brown rice and greens and you've got yourself a well-balanced Panda Express meal.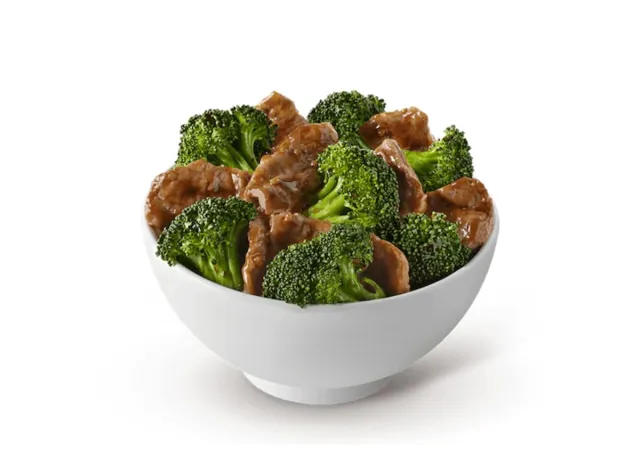 Nutrition: 150 calories, 7 g fat (1.5 g saturated fat), 520 mg sodium, 13 g carbs (2 g fiber, 7 g sugar), 9 g protein
Sabat suggests ordering the Broccoli Beef if you're in a red meat mood, especially because "the lean beef and broccoli make this dish chock full of protein, fiber, and antioxidants." She also adds that it's a healthier beef option because it's "low in calories and fat."
If you're trying to satisfy a beef craving, this dish is a better option than something like the Beijing Beef, which comes with 480 calories, 27 grams of fat, and 5 grams of saturated fat.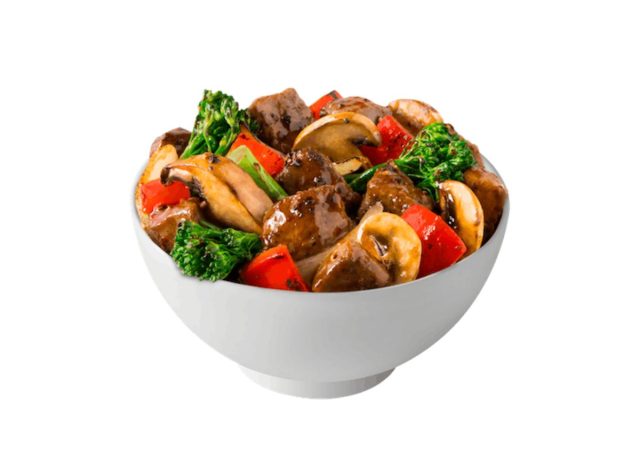 Nutrition: 210 calories, 10 g fat (2.5 g saturated fat), 560 mg sodium, 13 g carbs (1 g fiber, 7 g sugar), 19 g protein
Another healthy Panda Express entree for red meat lovers is the Black Pepper Angus Steak. This meal is one of the restaurant's "Wok Smart" dishes, which guarantees that it will have at least 8 grams of protein for under 300 calories. Pairing this steak meal—which also comes with broccoli, bell peppers, and mushrooms—with rice and greens will give you some protein, fiber, vitamins, and antioxidants.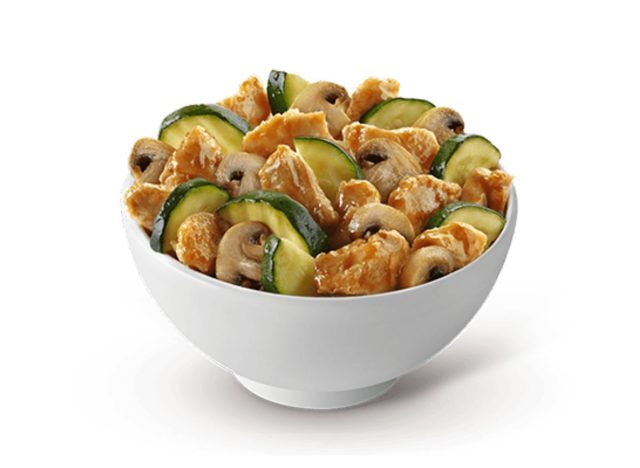 Nutrition: 220 calories, 14 g fat (2.5 g saturated fat), 840 mg sodium, 10 g carbs (1 g fiber, 5 g sugar), 13 g protein
Another chicken option with plenty of vegetables, the Mushroom Chicken provides 13 grams of protein and only 220 calories. If you order this entree with a side of Super Greens, you'll be giving your body a ton of vegetables with mushrooms, zucchini, broccoli, and leafy greens. Sounds quite healthy for a fast food joint!
Nutrition: 210 calories, 8 g fat (2 g saturated fat), 350 mg sodium, 11 g carbs (0 g fiber, 7 g sugar), 25 g protein
Panda Express has a handful of kid's options called Cub Meals, which include a smaller portion of an entree, plus a few small sides and a drink. According to its website, the chain used the USDA's dietary guidelines for children to create these Cub Meals that remain under 600 calories and provide both vegetables and fruit.6254a4d1642c605c54bf1cab17d50f1e
While the meal is a great choice for children, it's also a healthy choice for any age. Choose from the Chicken Teriyaki, Broccoli Beef, or Orange Chicken.
Healthiest Panda Express Sides
Nutrition: 90 calories, 3 g fat (0 g saturated fat), 260 mg sodium, 10 g carbs (5 g fiber, 4 g sugar), 6 g protein
Panda Express offers a few sides to choose from, such as Fried Rice, White Rice, Steamed Brown Rice, Chow Mein, and Super Greens. Out of these options, Sabat recommends opting for the Super Greens for an extra health boost.
"This side dish is low in calories and fat, and it's an excellent source of vitamins and minerals," says Sabat. "It's made with broccoli, cabbage, and kale, and it's a great way to add some veggies to your meal." If you combine this side with one of the entrees that also comes with vegetables, like the String Bean Chicken or Black Pepper Angus Steak, you'll be getting an excellent dose of helpful vitamins and nutrients.
Nutrition: 420 calories, 4 g fat (1 g saturated fat), 15 mg sodium, 86 g carbs (4 g fiber, 1 g sugar), 9 g protein
If you're craving rice with your Panda Express meal, Sabat suggests choosing brown over white, "because it contains more fiber and nutrients." Including rice with your entree instead of Super Greens does add a significant amount of calories to your meal, but at only 460 calories, combining this with one of the entree options mentioned above shouldn't take you much higher than 650-700 calories total.
link