The product recommendations in this post are recommendations by the writer and/or expert(s)
interviewed and do not contain affiliate links. Meaning: If you use these links to buy
something, we will not earn a commission.
Is anyone not rushing and scrambling to get a healthy dinner on the table at least a few times a week? Thankfully, quick and easy doesn't have to mean unhealthy, especially when you have a freezer stocked with healthy frozen dinners ready to go.
Having everything from frozen proteins to complete microwavable meals on hand can make hectic weeknights easier to manage. But not all freezer meals will keep you on track with your health goals. Frozen meals are notoriously loaded with sodium, saturated fat, and added sugars, but plenty of nutrient-dense options also exist.
The following list of healthy frozen dinners—chosen by registered dietitians—are full of flavor, filled with good-for-you ingredients like vegetables, plant proteins, or lean animal proteins, and are lower in sodium and saturated fat.
Before your next grocery run, check out these 14 dietitian-approved healthy frozen dinners to make weeknight meals manageable and delicious.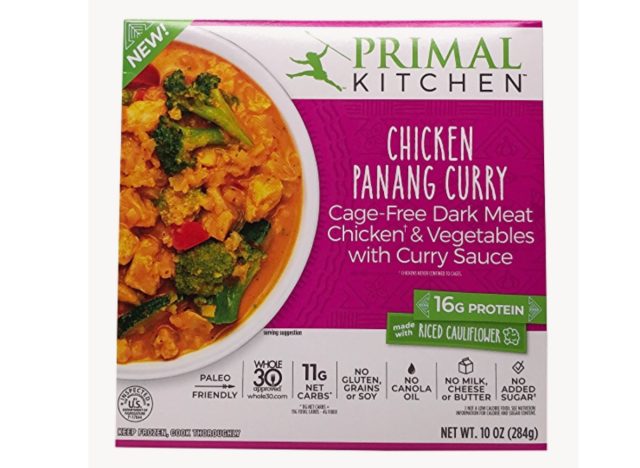 PER 1 SERVING: 250 calories, 15 g fat (10 g saturated fat) 760 mg sodium, 15 g carbs (4 g fiber, 6 g sugar) 16 g protein
"The Chicken Panang Curry from Primal Kitchen is one of my favorite healthy frozen dinners because it does not contain any added sugar and has 16 grams of protein per serving," says Wan Na Chun, MPH, RD. "It's perfect for a healthy weeknight dinner because it requires little preparation because of how flavorful the dish is, and you can easily pair it with some steamed rice to make it a more filling dinner."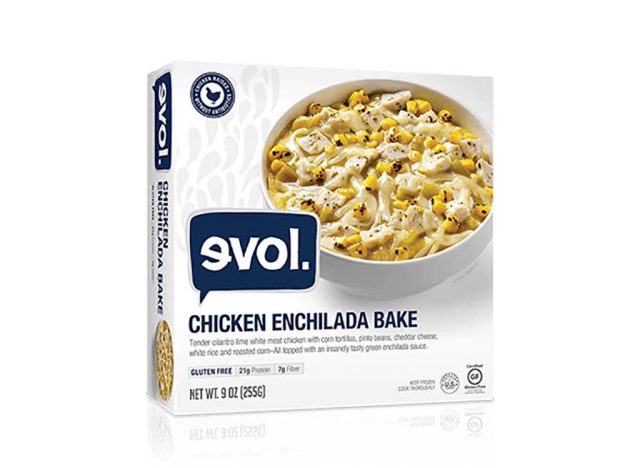 PER 1 SERVING: 380 calories, 13 g fat (6 g saturated fat) 510 mg sodium, 43 g carbs (6 g fiber, 2 g sugar) 20 g protein
The Evol Chicken Enchilada Bake is a flavorful single-serving meal with 6 grams of fiber and 20 grams of protein. The cilantro chicken topped with black beans, corn, rice, and corn tortillas is incredibly satisfying. It's also gluten-free, which makes it an excellent choice for dietary restrictions.
I love that the entire meal has only 510 milligrams of sodium, which is 22% of the DV. Add a fresh salad on the side, and this frozen dinner makes a healthy balanced meal that can fit into any diet.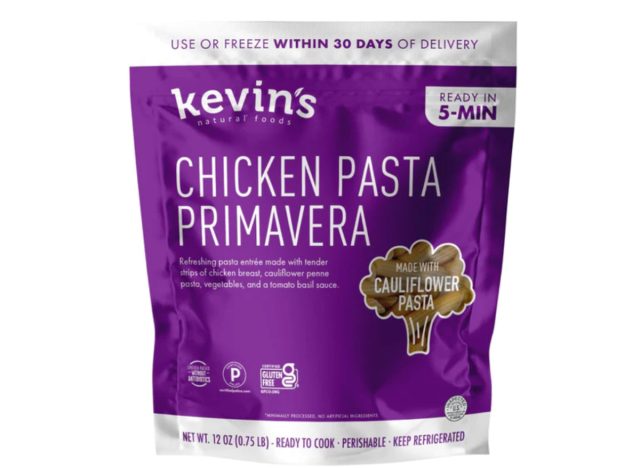 PER 1 SERVING: 220 calories, 5 g fat, 1.5 g saturated fat, 650 mg sodium, 26 g carbs, 3 g fiber, 5 g sugar, 18 g protein
This refrigerated pasta meal-in-one can be frozen for up to 6 months and makes getting dinner on the table incredibly easy. Kevin's Natural Foods Chicken Pasta Primavera is paleo-certified with no added sugars. The pasta is made from cauliflower, but the texture is surprisingly similar to regular pasta, and it's just as satisfying. With 18 grams of protein, 26 grams of carbohydrates, and 5 grams of fat, you'll feel incredibly satisfied and will also only dirty one pan getting dinner on the table.
PER 1 SERVING: 410 calories, 10 g fat, 1.5 g saturated fat, 760 mg sodium, 68 g carbs, 3 g fiber, 23 g sugar, 12 g protein
"My favorite frozen meal is Amy's Pad Thai with 410 calories and 13 grams of protein," says Lori A Stevens RD, LDN. This single-serve frozen dinner is plant-based, gluten-free (using rice noodles), and dairy-free. Their unique take on pad thai also uses cashews instead of peanuts, making it possible for even those with peanut allergies to enjoy delicious pad Thai in minutes.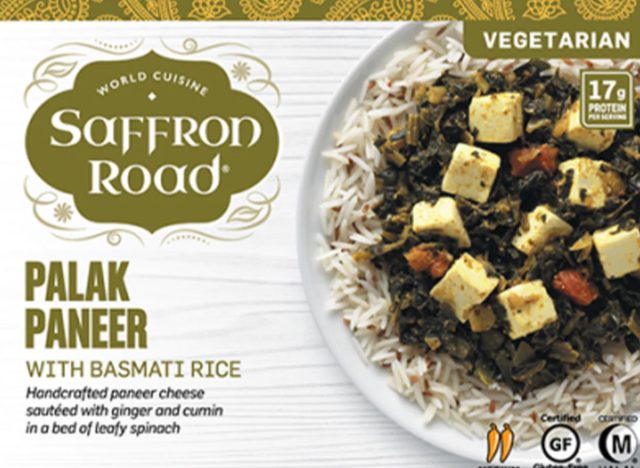 PER 1 SERVING: 400 calories, 21 g fat (11 g saturated fat) 690 mg sodium, 31 g carbs (4 g fiber, 3 g sugar) 17 g protein
"The Saffron Road Palak Paneer is my go-to for a vegetarian-friendly meal that is packed with flavor and quality ingredients," says Lauren Manaker MS, RDN. You really can't go wrong with any of their frozen dinner choices. "All options are certified gluten-free, and some feature whole, plant-based proteins like chickpeas, cauliflower, and cashews, which can support many healthy lifestyles," Manaker adds.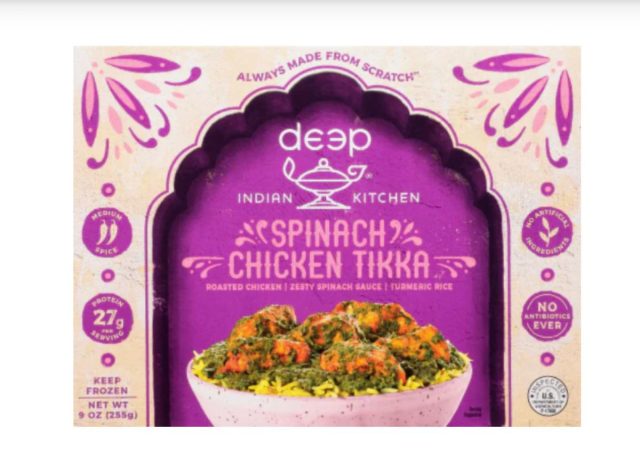 PER 1 SERVING: 350 calories, 12 g fat (2 g saturated fat) 640 mg sodium, 36 g carbs (2 g fiber, 2 g sugar) 27 g protein
Who says frozen meals are bland and tasteless? This Spinach Chicken Tikka from Deep Indian Kitchen has a fantastic zesty spiced flavor and an incredible 27 grams of protein. One serving has only 640 milligrams of sodium, as most of the flavor comes from the yogurt sauce, cooked spinach infused with Indian spices, and turmeric rice.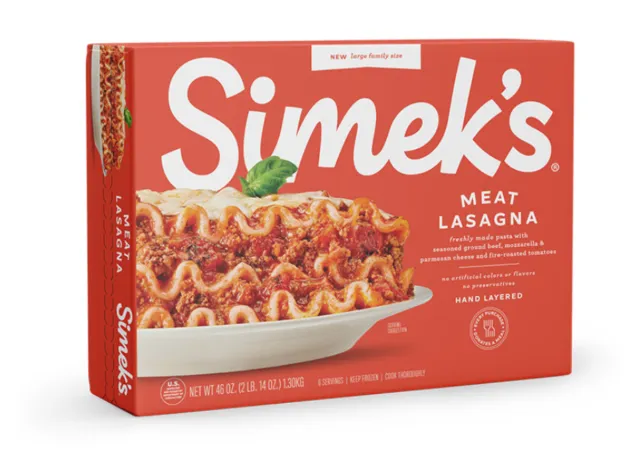 PER 1 CUP SERVING: 300 calories, 12 g fat (6 g saturated fat) 860 mg sodium, 32 g carbs (2 g fiber, 11 g sugar) 16 g protein
Lasagna is the ultimate comfort food, but who has the time to spend hours in the kitchen whipping one together on a weekday night? Typical frozen lasagnas leave a lot to be desired in flavor and nutrition, but here's one that's ultra-satisfying. "I love Simek's Frozen Meat Lasagna in either their regular size or family size if you have a larger family or want leftovers," says Alex Turnbull, RDN, LD. "For a balanced meal, pair it with fresh, roasted veggies or a frozen veggie steamer if you're short on time."6254a4d1642c605c54bf1cab17d50f1e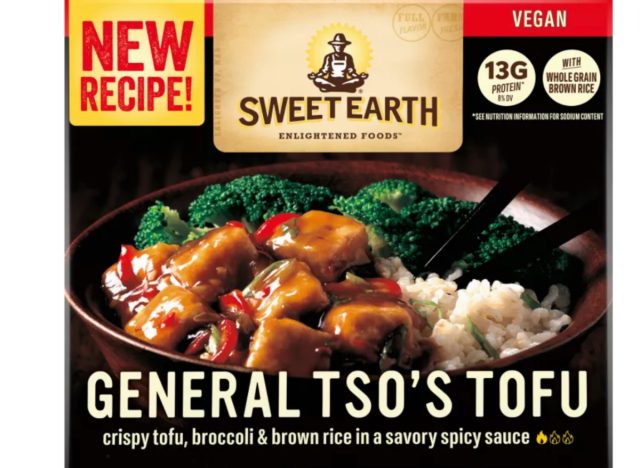 PER 1 SERVING: 370 calories, 13 g fat (2.5 g saturated fat) 940 mg sodium, 51 g carbs (3 g fiber, 18 g sugar) 13 g protein
If you're looking for a vegan frozen dinner option, Sweet Earth's General Tso's Tofu is a flavorful and nutrient-dense choice. This meal is perfect for an easy lunch or weeknight dinner, and with 13 grams of protein, it's a filling and satisfying option, explains Alex Caspero, MA RD, plant-based dietitian at Delish Knowledge.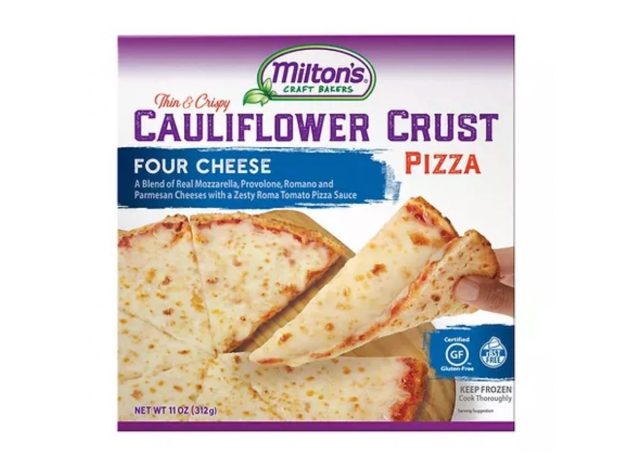 PER ¼ PIZZA: 230 calories, 8 g fat (5 g saturated fat) 570 mg sodium, 27 g carbs (2 g fiber, 5 g sugar) 12 g protein
Want a flavorful gluten-free pizza that is actually good for you? "Milton's Cauliflower Pizza satisfies my craving for a pizza, comes with a variety of toppings, and is readily available in most grocery food chains," says Moushumi Mukherjee, MS, RDN.  
The roasted vegetable cauliflower pizza has 12 grams of protein and only 27 grams of carbohydrates for one-quarter of the pizza, plus there's only 8 grams of total fat. Most vegetable pizzas are incredibly high in carbohydrates and fat, making this a very nutritious option for pizza night!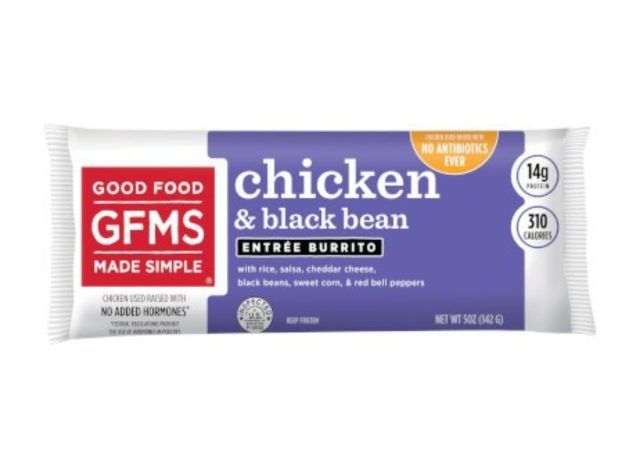 PER 1 WRAP: 310 calories, 9 g fat (4.5 g saturated fat) 380 mg sodium, 40 g carbs (4 g fiber, 2 g sugar) 14 g protein
Need a handheld frozen dinner option? These Chicken and Black Bean Burritos are hearty, savory, and seriously impressive when it comes to their nutrition. Most frozen burritos are incredibly high in sodium, but one of these burritos has only 380 milligrams of sodium, or 17% of the DV. I like plating these with a bed of cool and crisp romaine, avocado, and spicy salsa for a super satisfying, quick, and nutrient-rich dinner.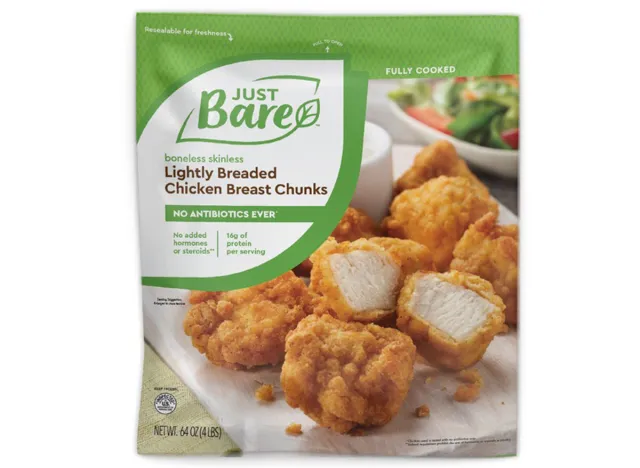 PER 3 OUNCE SERVING: 160 calories, 6 g fat, 1 g saturated fat, 540 mg sodium, 9 g carbs, 0 g fiber, 2 g sugar, 16 g protein
The Just Bare Lightly Breaded Chicken Nuggets, available at Costco, are an easy and tasty way to add quality protein to any meal. "Made with all-natural ingredients, they're not only packed with protein, but they're so crispy and delicious," says McKenzie Caldwell, MPH, RDN.  Serve them with your favorite dipping sauce and a side of raw carrots and celery, or a bag of steamed frozen broccoli for a balanced meal even the kids will love, recommends Caldwell.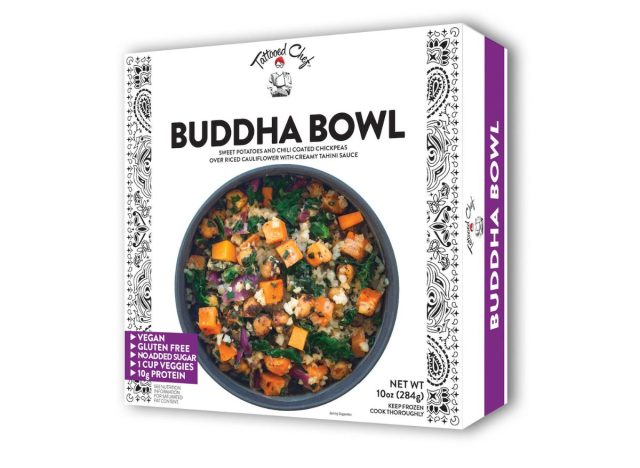 PER 1 BOWL: 320 calories, 19 g fat (2.5 g saturated fat) 310 mg sodium, 33 g carbs (9 g fiber, 6 g sugar) 10 g protein
This vegan and gluten-free meal is a great way to hit your daily vegetable goals. Each Buddha Bowl has a cup of vegetables—like sweet potatoes, cauliflower, kale, and onions—with roasted chickpeas and an unbeatable creamy tahini sauce. It's high in fiber, with 9 grams per serving, and low in sodium, with only 310 milligrams, or 13% of your DV, making it an excellent heart-healthy choice.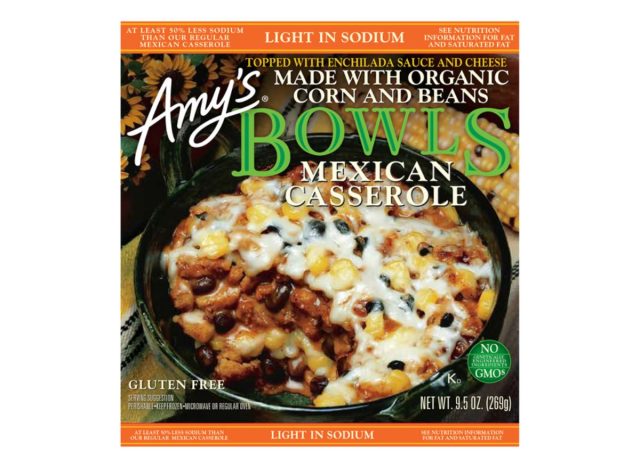 PER 1 SERVING: 370 calories, 16 g fat (5 g saturated fat) 370 mg sodium, 45 g carbs (6 g fiber, 4 g sugar) 12 g protein
While many frozen meals need a little doctoring up to qualify as a complete meal, Amy's Kitchen Light in Sodium Mexican Bowl is a complete microwaveable meal. "For just 370 calories, you get 12 grams of vegetarian protein to help keep you fuller for longer," says Amy Gorin, MS, RDN, owner of Plant Based with Amy and a nutrition partner with Amy's Kitchen. "Also, I love that the meal is light in sodium, with just 370 milligrams per entree—half the sodium of the regular version of the meal."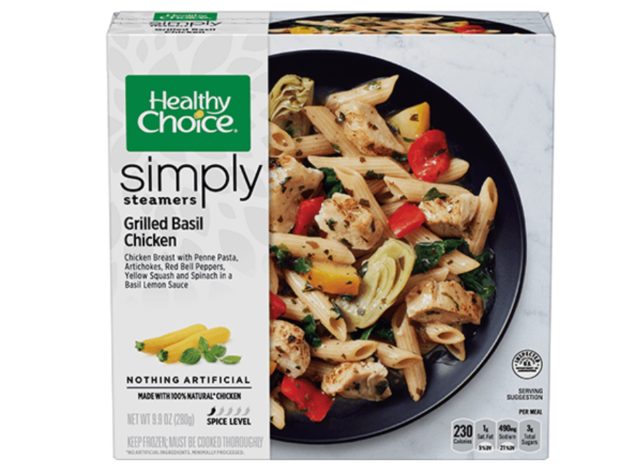 PER 1 SERVING: 230 calories, 6 g fat (1 g saturated fat) 490 mg sodium, 45 g carbs (5 g fiber, 3 g sugar) 19 g protein
If you're looking for a quick and easy balanced meal, Healthy Choice Grilled Basil Chicken has it all—pasta, chicken, and flavorful veggies like artichokes, peppers, squash, and spinach. It's a satisfying lunch or dinner ready in just minutes, and the 19 grams of protein and 5 grams of fiber will keep you full until your next meal.
link