This month, vegan eggs hit the menu at all 14 residential dining halls at Ivy League university Yale. Made by vegan company Zero Egg, the plant-based eggs are being served five to seven times per week during breakfast and brunch as part of scrambles, in breakfast sandwiches made with Zero Egg patties and Beyond Meat's sausage, and as a base for the Vegan Herbed Frittata. 
Founded in 2018 in Israel, Zero Egg began making its foodservice debut in the US in 2020 as a versatile replacement for animal-derived eggs. The brand chose to focus on college campuses because the biggest trends in food and beverage tend to emerge there. Generation Z is also a demographic that is acutely aware of the role animal agriculture plays in the climate crisis and is looking to consume more environmentally friendly foods. 
Zero Egg
"Student diners represent the next 10 to 15 years of restaurant goers, so it was a natural conclusion for us to start on campuses in New England," Graeham Henderson, Zero Egg sales lead for the region, told VegNews. "Since Zero Egg has the same taste, texture, and versatility of an ordinary egg, it doesn't just appeal to vegan students either. The majority of students—upwards of 60 percent—who are ordering our plant-based eggs are non-vegan and would otherwise be consuming ordinary eggs." 
In addition to Yale, Zero Egg is available at other college campuses in the New England area, including Colleges of the Fenway, Boston University, Connecticut College, and Mount Holyoke College, with more to come in the fall semester.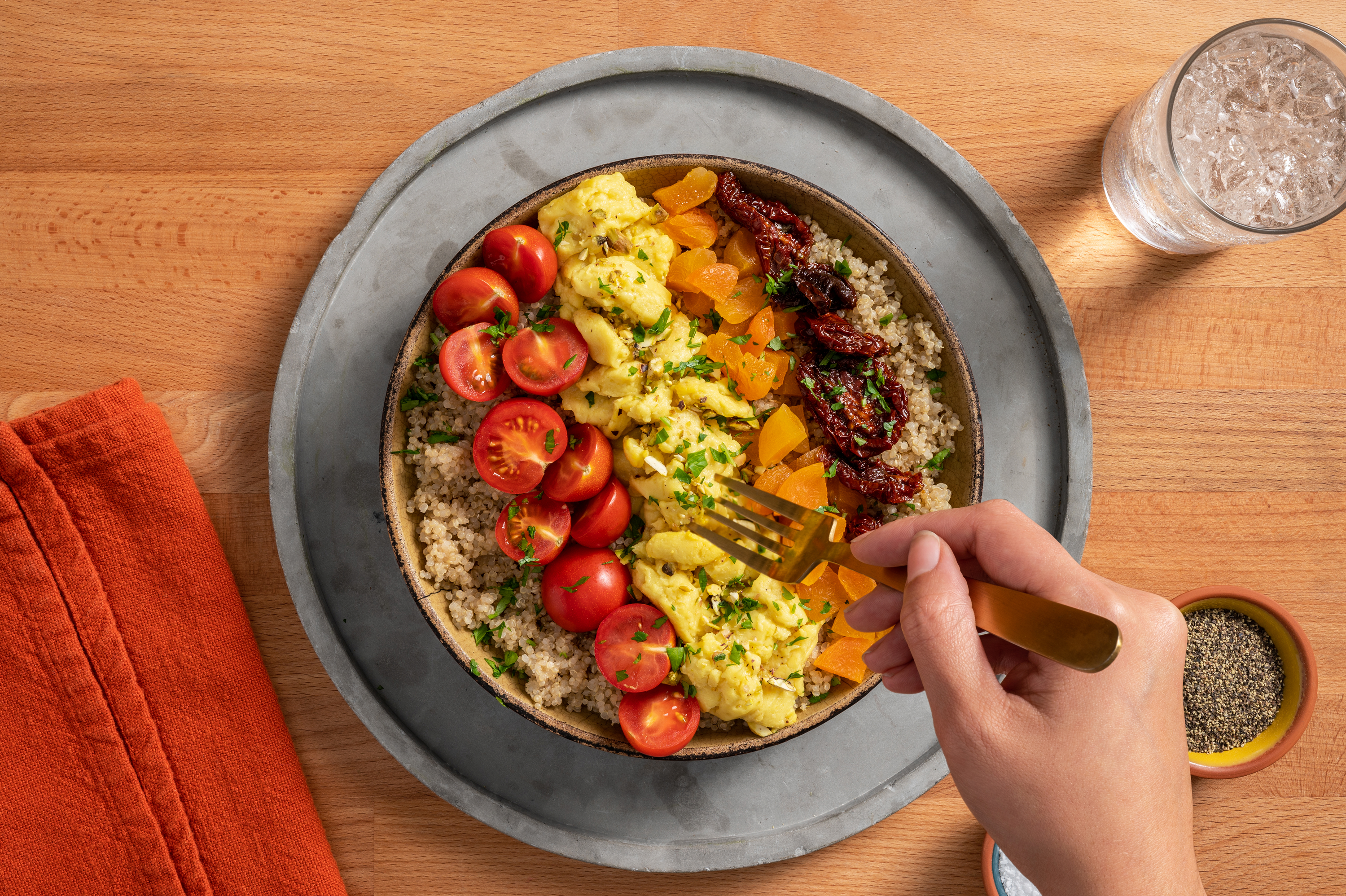 Zero Egg
Vegan eggs make for a better breakfast
Approximately 1.3 trillion eggs are consumed globally every year and to produce this volume, egg-laying hens are forced to live miserable lives within the industrial animal agriculture industry. In addition to being a more ethical choice, plant-based egg alternatives do not rely on animal biology which presents myriad environmental, individual health, and public health benefits.
A shift toward plant-based eggs means a move away from the overuse of antibiotics, risk of zoonotic disease, and unreliable egg supply chains. Zero Egg was co-founded by food scientist Liron Nimrodi with this in mind. "​​Animal-based foods are just not healthy for you and are hurting the environment and farmed animals," Nimrodi told VegNews. "Eggs are part of that, and we at Zero Egg want to be part of the solution for a better tomorrow."
To provide a fully functional substitute, Zero Egg is available to foodservice operators in several formats including frozen liquid, ready-to-eat patty, and shelf-stable powder made from two patent-pending formulations that mimic animal eggs using a blend of plant-based components. "Our product functions like an ordinary egg but is entirely made from plants," Nimrodi said. "Created with a proprietary blend of plant proteins, Zero Egg has significantly less impact on the environment compared to ordinary eggs, not to mention our product doesn't harm any animals."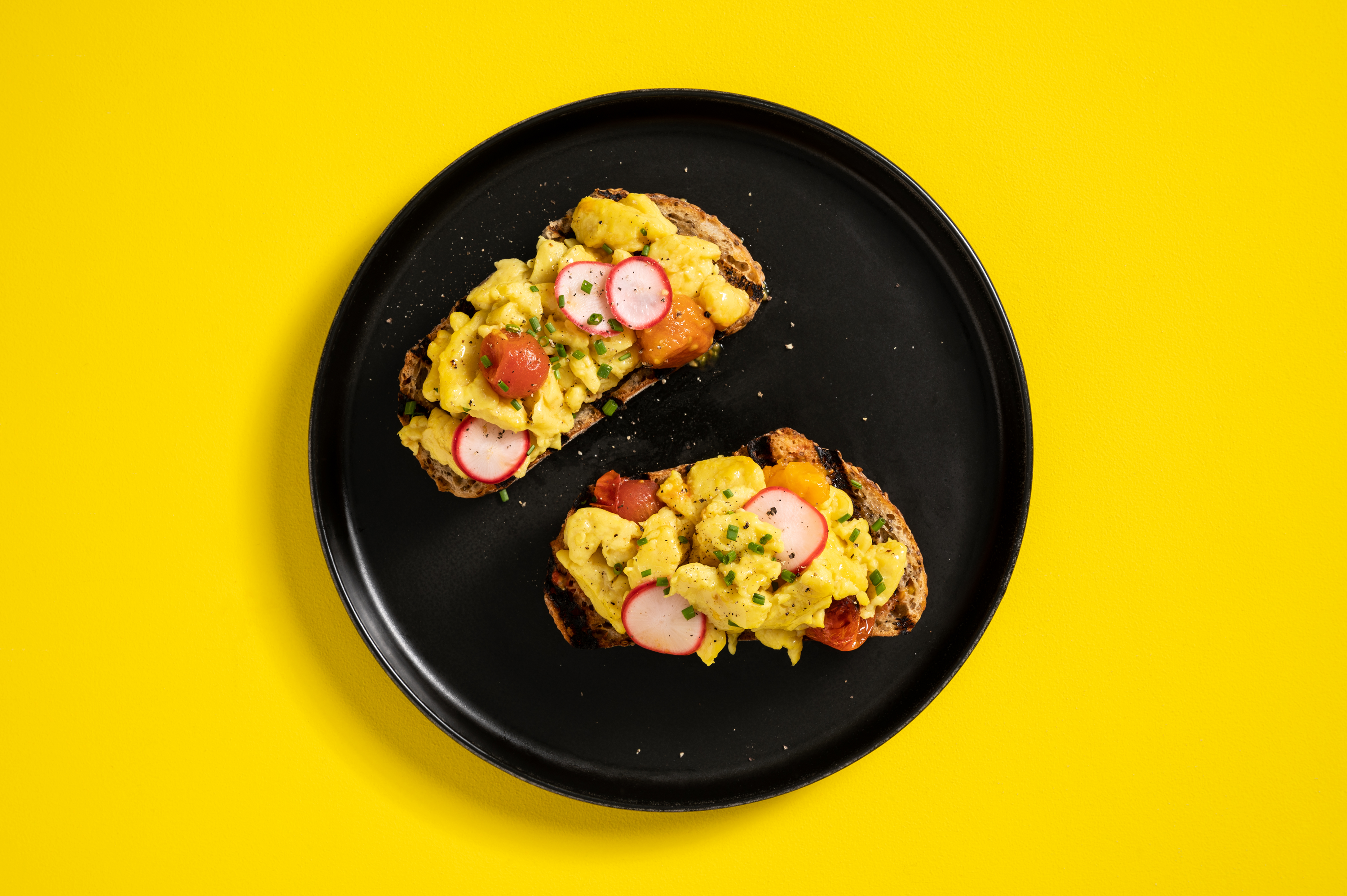 Zero Egg
Vegan eggs lay path for sustainable future
In the US, the leader in the vegan egg category is JUST Egg, a mung bean-based replacer produced by California company Eat Just. Since its debut in 2019, JUST Egg—which takes far fewer resources to produce than its animal-derived counterpart—has sold the vegan equivalent of 250 million chicken eggs and recently gained approval to expand to the EU where it will continue to disrupt the unsustainable chicken egg industry. To date, Eat Just has also saved 43.6 million kilograms of CO2 emissions, 9.1 billion gallons of water, and 13,446 acres of land with its mung bean-based egg alternative.
New entrants in this category can help move the needle toward replacing eggs with plant-based alternatives that are much kinder to the planet. It takes more than 630 gallons of water to produce one dozen chicken eggs. However, Zero Egg cuts that water usage down by 93 percent for an equivalent amount of its vegan eggs. It also uses 92-percent less land, 93-percent less energy, and emits 59-percent fewer greenhouse gasses when compared to traditional chicken eggs. "Think about the impact Zero Egg will have on the planet and on the climate crisis if we replace 10 percent of the one trillion eggs that are produced every year—this is why we wake up in the morning," Nimrodi said.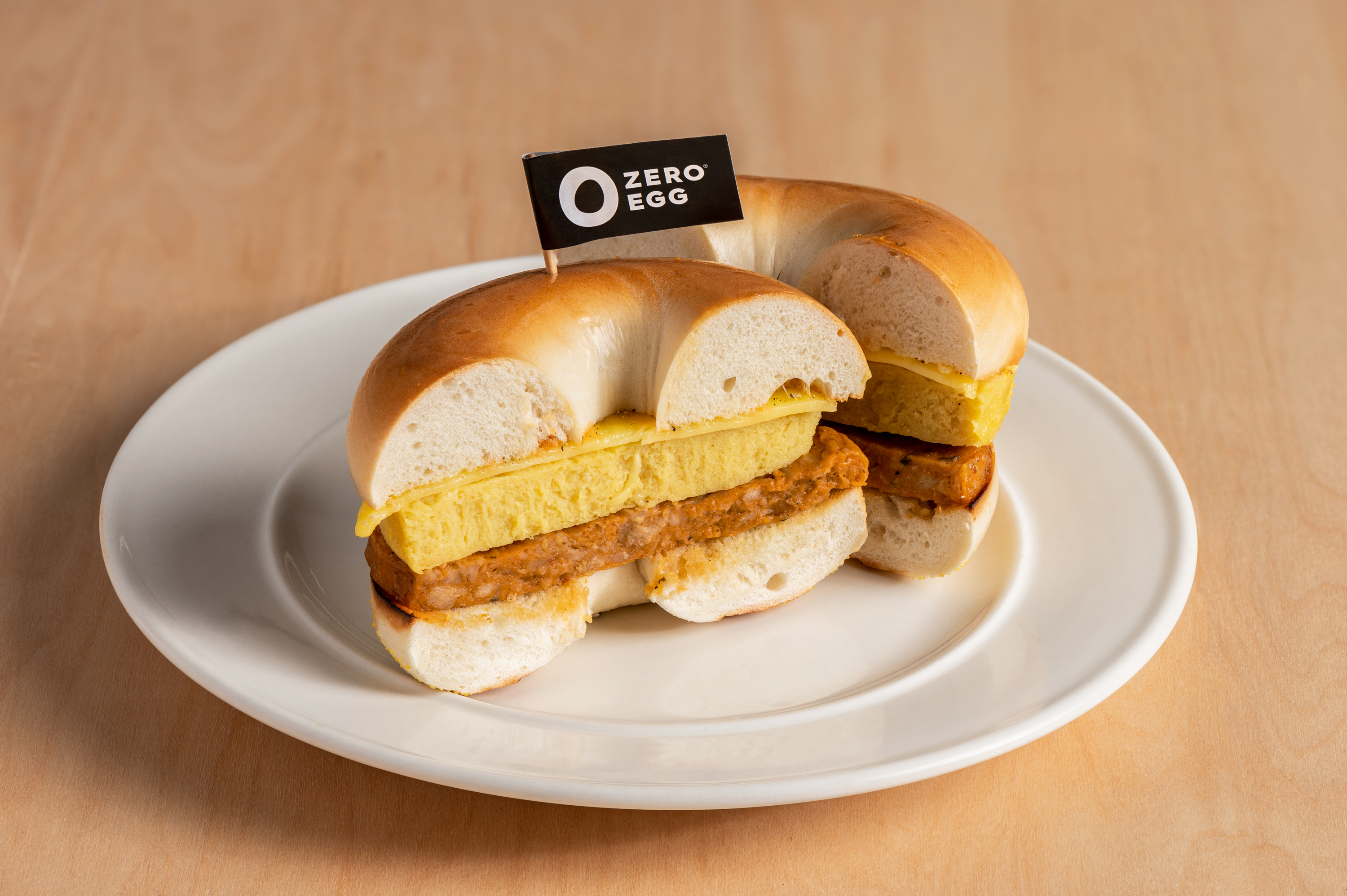 Zero Egg
In addition to college campuses, Zero Egg is expanding to other foodservice providers in the New England region and beyond. The vegan egg is now served at Crack'd Kitchen & Coffee locations, where it is being used in the Southwest Veggurito and can be ordered as a replacement to eggs in any of the chain's current dishes. Additionally, Zero Egg is available at Revival Cafe + Kitchen locations in its vegan breakfast sandwiches for a limited time and will be expanding to the permanent menu starting next month. Revival also provides catering services and offers Zero Egg to a number of high-profile corporate tech offices. 
For more about vegan eggs, read:
This Vegan Egg Cooks, Tastes, and Cracks Like a Chicken Egg
German Startup Develops Vegan Egg From Fava Beans
The Ultimate Guide to Egg, Milk, and Butter Substitutes
Get FREE vegan recipes delivered to your inbox by signing up for our award-winning VegNews Recipe Club.
Sign Up
Get FREE vegan recipes delivered to your inbox by signing up for our award-winning VegNews Recipe Club.
Sign Up

link