Chicken, the most popular protein in the United States, is eaten more than any other meat by far, growing in the US from 28 pounds per capita in 1960 to a whopping 97.6 pounds in 2020. Much of this appeal is due to the association of chicken as being a lean protein that is lower in calories and with fewer health risks as beef, which has seen a decline in consumption in that same time frame along with pork. 
In the beginning of the 20th century, chicken was mainly consumed in the springtime after eggs were hatched and there wasn't much demand from consumers the rest of the year. 
Eating chicken became somewhat more common during World War II, when beef and pork were rationed, but it wasn't until the '50s and '60s with the industrialization of meat production and the genetic streamlining of the chicken's body to increase the proportion of the highest-demand meat, namely breast, that it began to be included more in everyday American diets. 
At the same time, the notion that chicken was a healthy, lean protein option became more widely accepted, driven by consumer concerns about saturated fat and cholesterol, and consolidation of the industry into fewer producers—plus, the massive government subsidies made it a more affordable option.
Chicken meat nutrition 
Chicken meat contains less saturated fat than red meats like beef or pork, especially if the skin has been removed and depending on the cooking method. It also has fewer calories per ounce than beef, with chicken breasts being approximately 122 calories, or 15.81 grams versus the same amount of beef tenderloin at nearly 180 calories, or 23.32 grams. It is considered high in protein, niacin, selenium, and phosphorus.
Chicken farming
The environmental costs of America's appetite for chicken as a cheap protein source is also high, though. With chicken manure polluting waterways and the significant greenhouse gases emitted to grow their feed as well as their processing and released from their waste, the US chicken industry produces nearly 130 billion pounds of CO2 emissions each year, or the same amount as 12.37 million cars. The vast majority of the chicken people eat live short lives in crowded, stressful conditions, slaughtered at around 47 days of age and with bodies that are crippled from genetic manipulation to emphasize rapid growth.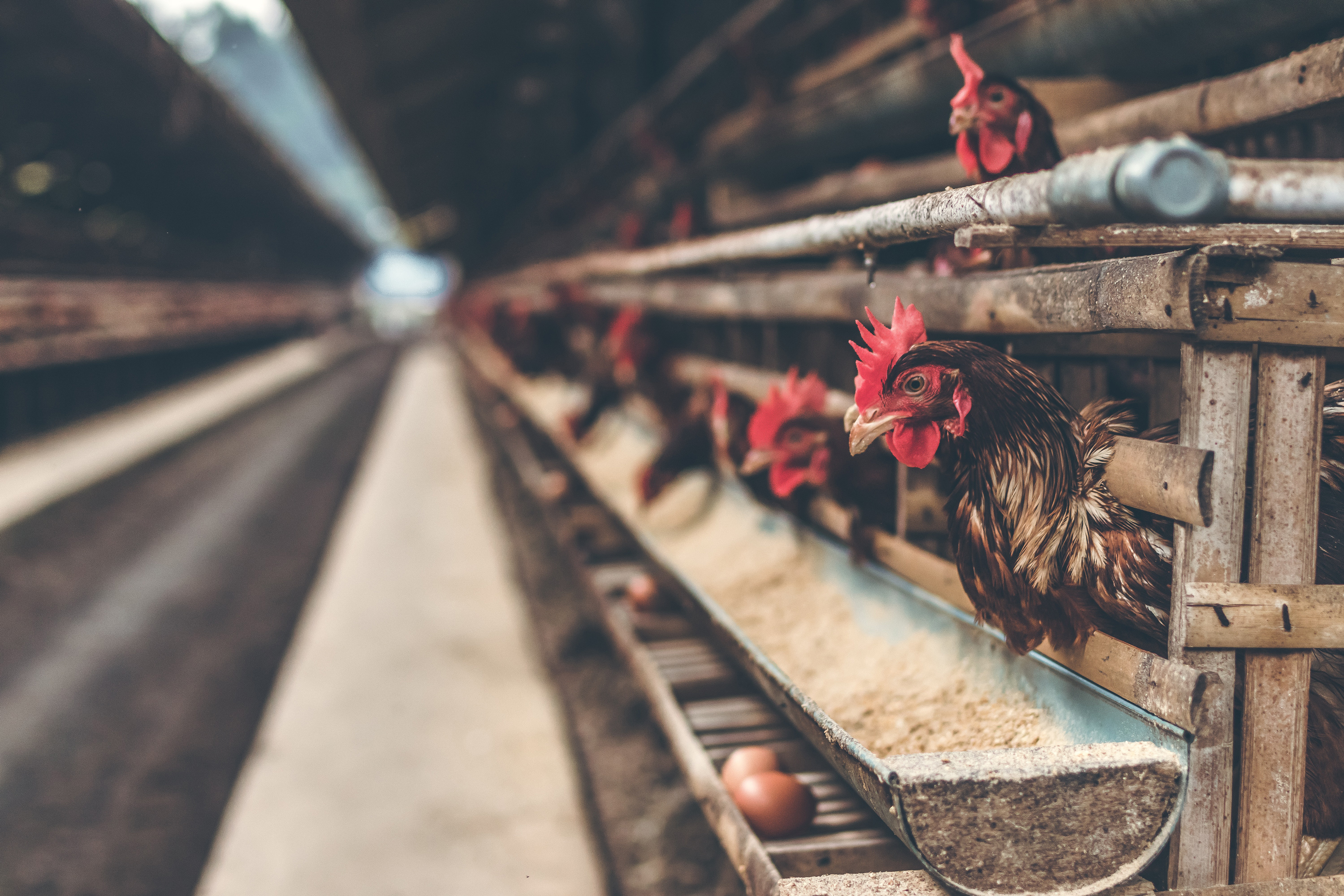 Is chicken healthy?
Is chicken meat healthy enough to justify its status as such a popular protein, though? According to a study published in the American Journal of Clinical Nutrition, both red meat and white meat raised LDL (otherwise known as "bad") cholesterol about the same amount, and plant-based protein options did not, making chicken not a heart-healthy choice. 
Of further concern are the carcinogens associated with chicken, particularly the federally recognized PhIP carcinogen linked to breast, prostate, and other cancers detected in all grilled chicken samples tested for a published study. 
According to another published study, chicken meat is responsible for the most foodborne illness outbreaks, and that campylobacter and salmonella infections (which are caused by bacteria in chicken) are on the increase. 
Speaking of foodborne illness, a strain of E. coli commonly found in retail chicken products is likely linked to a wide range of infections in consumers, including urinary tract infections. 
Chickens are also routinely fed antibiotics and are the biggest consumers of them on the planet, which contributes to human antibiotic-resistance and a potential superbug that would render antibiotics for treating infections obsolete.
Best vegan chicken
Given all this, it may be time to consider plant-based versions to replace the chicken in your diet.
With similar flavor and texture profiles, vegan chicken will also be full of protein but free of cholesterol, antibiotics, E. coli, and other health menaces. Additionally, they are abundant in fiber, which is completely missing from animal-sourced foods, with antioxidants and known protections against heart disease, stroke, type 2 diabetes, and certain cancers. With better outcomes for the planet, human health, and the animals, as well as a growing market of options in a multitude of forms, it's never been easier to give up chicken without giving up the taste.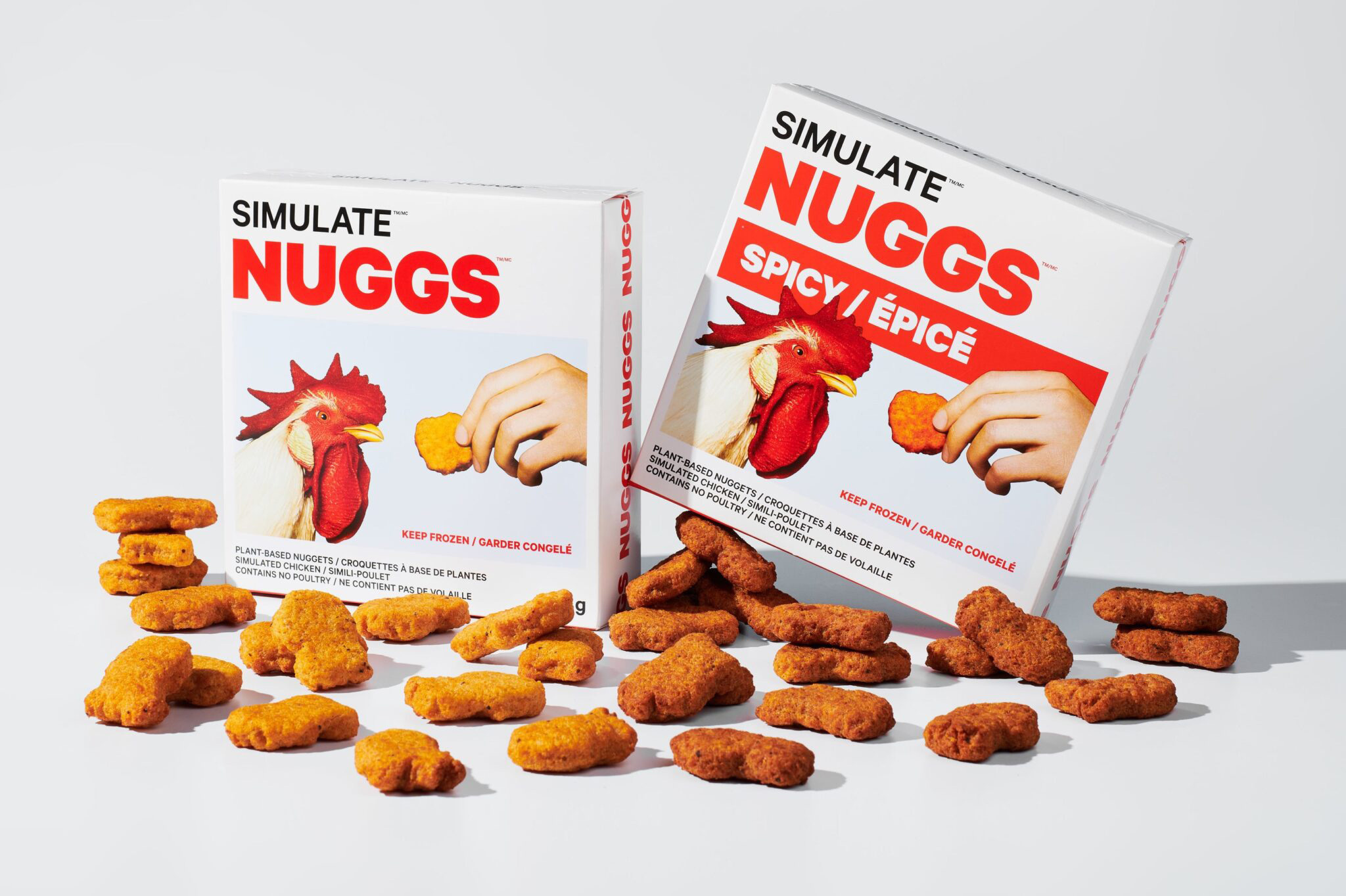 SIMULATE
1 SIMULATE
Previously known by the product name NUGGS, food-tech start-up SIMULATE launched in 2019 and quickly became a leader in the category with its signature nuggets. Now it has expanded to patties, wings, and fun dinosaur shapes for enthusiasts of all ages. Try the Original NUGGS, which are breaded and have that expected chicken-like texture, with a variety of dipping sauces.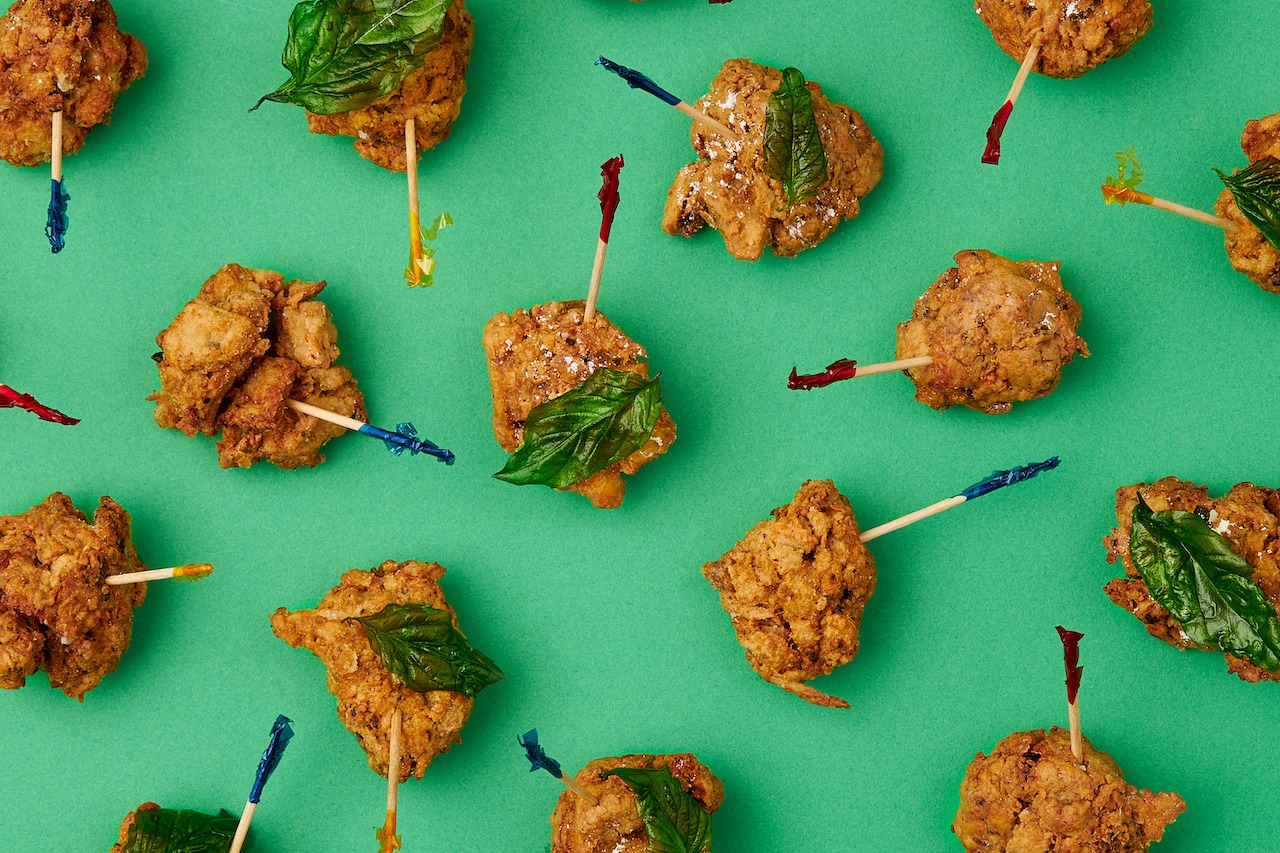 Tofurky
2
Tofurky
Maker of the iconic Tofurky, Turtle Island Foods has turned its product development attention to replacing another bird on the plate: chickens. Try the chewy and flavorful Thai Basil Plant-Based Chick'n for a perfect one-to-one substitution in your next stir-fry.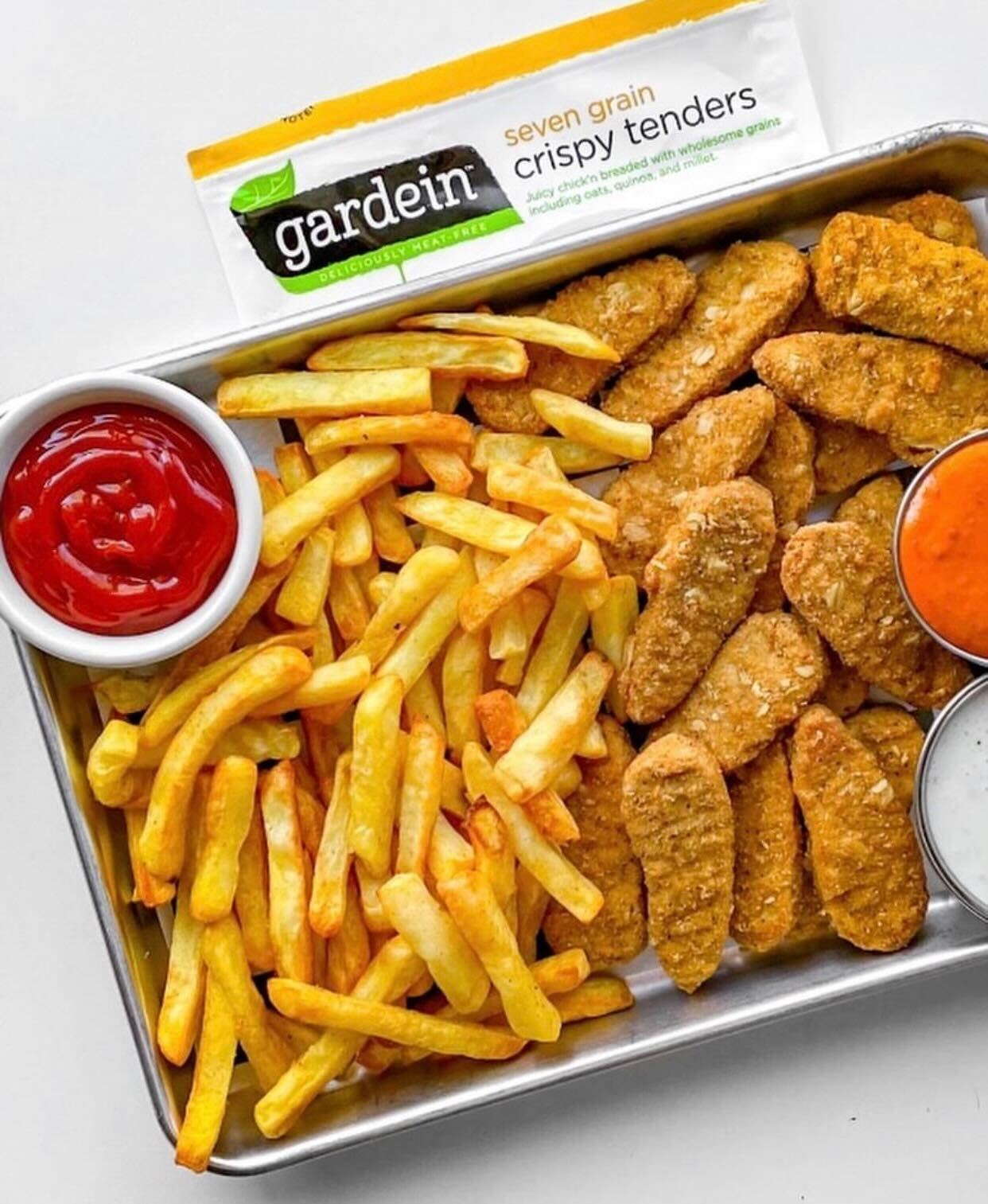 Gardein
3 Gardein
Grocery store heavy-hitter Gardein has a variety of flavors and styles from wings to patties and nuggets to strips, but the super popular Seven Grain Crispy Tenders, crunchy on the outside, tender on the inside, are both an excellent addition to any pita pocket with veggies but also ideal for a lunchbox.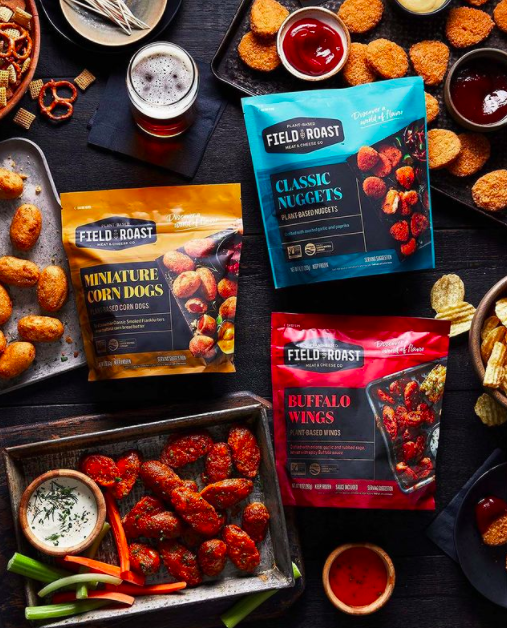 Field Roast
4Field Roast
Known for its chef-crafted origins with a focus on quality that continues today, Field Roast offers a wide variety of savory vegan proteins and cheeses in the refrigerated section of many major US grocery stores. Try the Miniature Corn Dogs with a simple vegan mayo-mustard dipping sauce any time you want to bask in some carefree summertime vibes.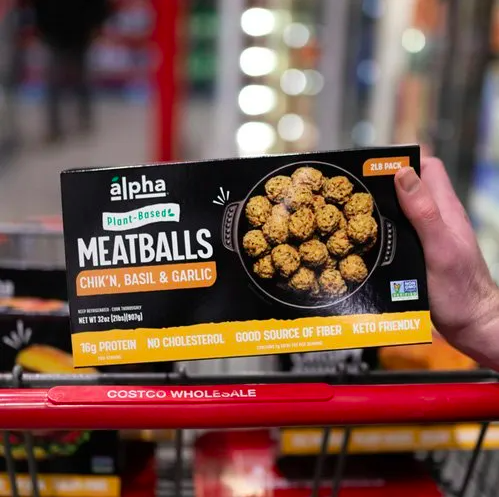 Alpha Foods
5 Alpha Foods
Another vegan brand that offers in the convenience sector, Alpha Foods is not only free of animal products but also palm oil in its burritos, breakfast sandwiches, pizzas, and much more, but if you're craving Italian food, try the flavor- and protein-packed Chik'n, Basil & Garlic Meatballs over your next pasta marinara to scratch that itch.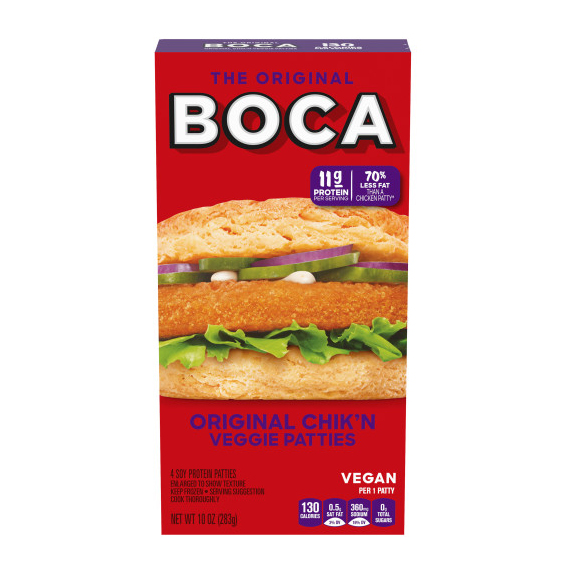 BOCA
6 Boca
One of the first meatless brands in the frozen section, Boca sells a variety of nuggets, crumbles, and patties that are easy to prepare and affordable. The Spicy Chik'n Veggie Patties, breaded and packing 12-grams of protein per serving, are great in a bun with all the fixins'.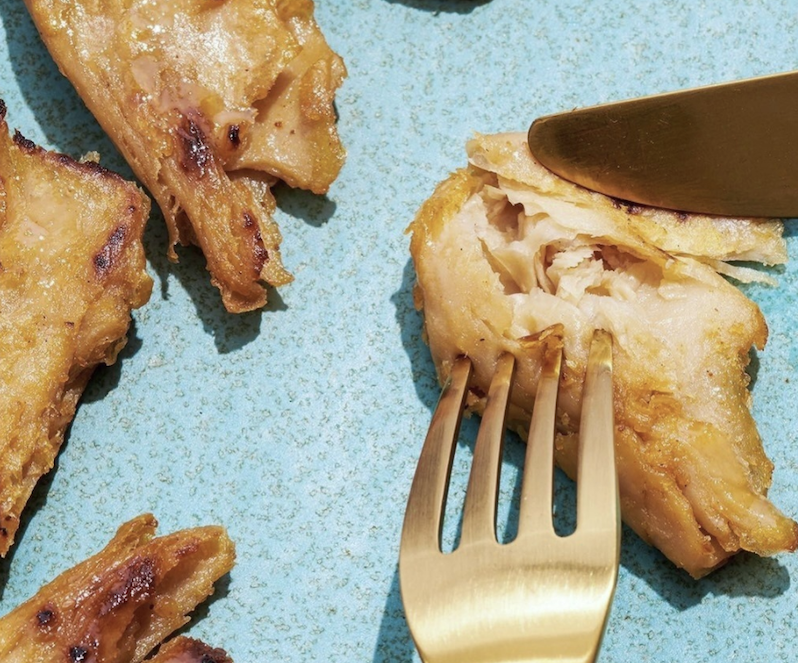 Daring Foods
7 Daring Foods
Creating what it calls "the plant chicken for people who love the taste of chicken," Daring Foods has crafted four flavors of pieces in Original, Breaded, Cajun, and Lemon & Herb varieties. Shredding just like chicken and with a short ingredients list, all but the breaded are gluten-free. The Original is perfect on a fresh vegan Caesar salad.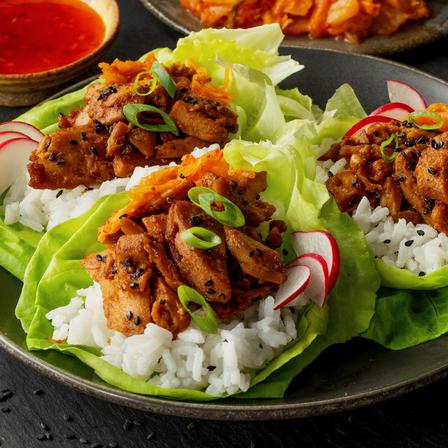 Sweet Earth Foods
8 Sweet Earth Foods
With a wide range of convenience meals in the frozen section, Sweet Earth Foods also offers four flavors of plant-based, gluten-free shredded chicken you can incorporate in any recipe to replace the meat. Try the tender, sweet-and-spicy Korean BBQ-Style Chik'n Marinated Shreds in a Buddha bowl.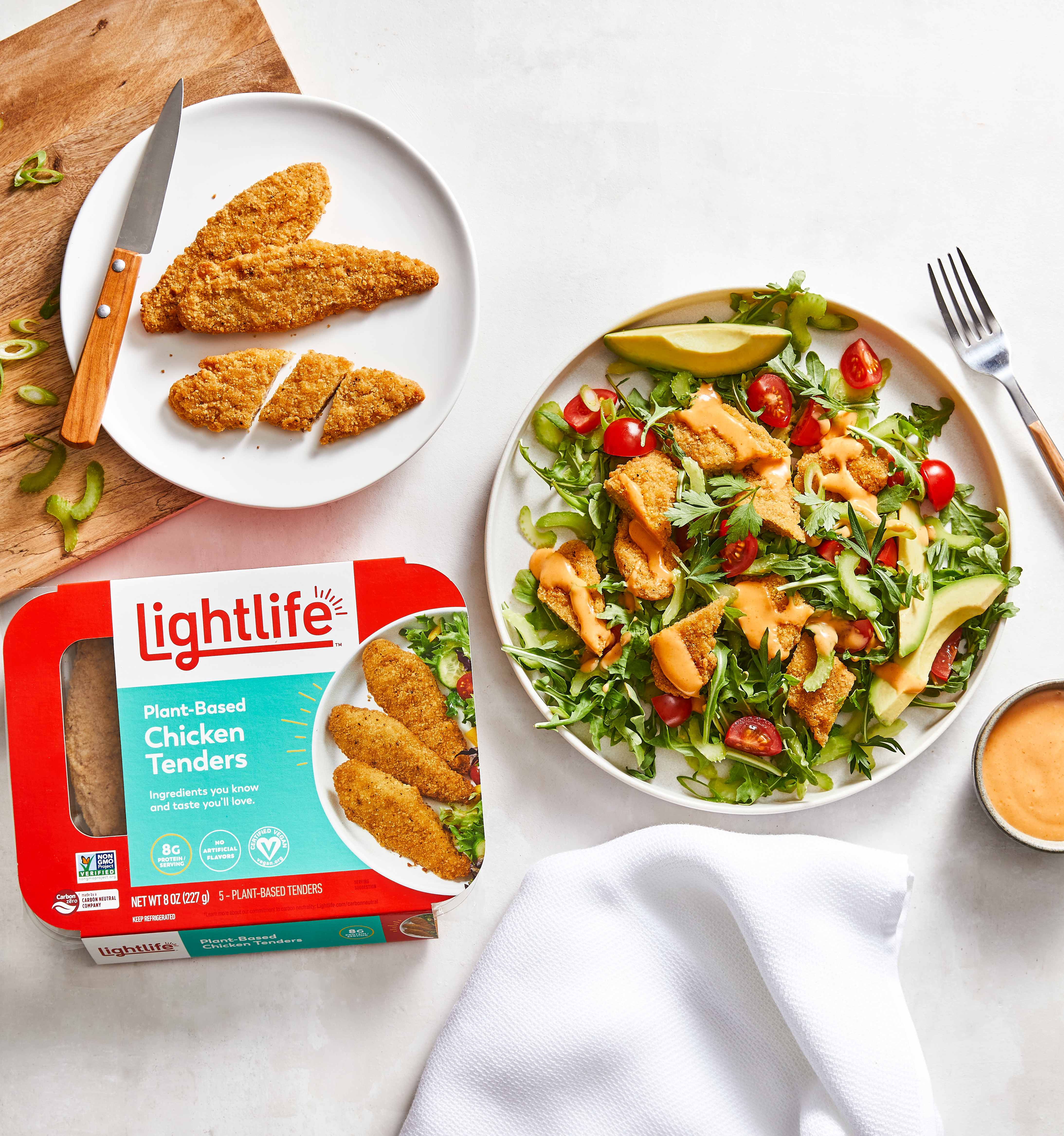 Lightlife
9 Lightlife
Another one of the original meatless brands, Lightlife has kept their product line current by expanding to sustainable ingredients like pea protein. Try the popular Smart Tenders® Plant-Based Chicken (which are also gluten-freee) the next time you are wanting to try fajitas.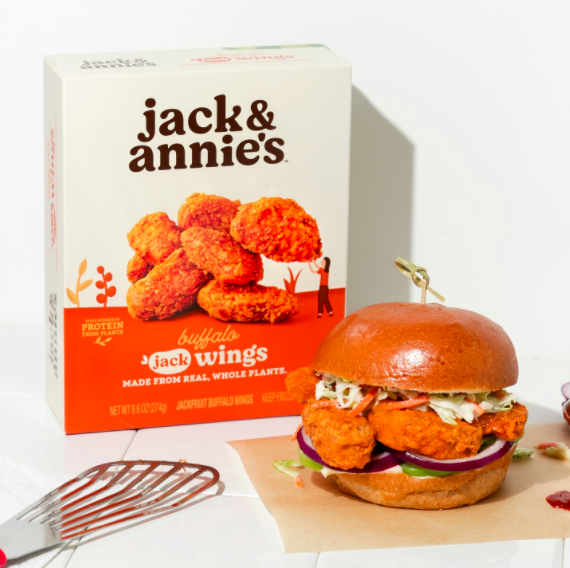 Jack & Annie's
10 Jack & Annie's
Featuring jackfruit as the meat replacement, Jack & Annie's has figured out how to coax a tenderness and chewiness from the tropical fruit and make it a perfect stand-in for chicken. The crispy, spicy Buffalo Wings are excellent on game day or whenever you want a familiar indulgence without the chicken.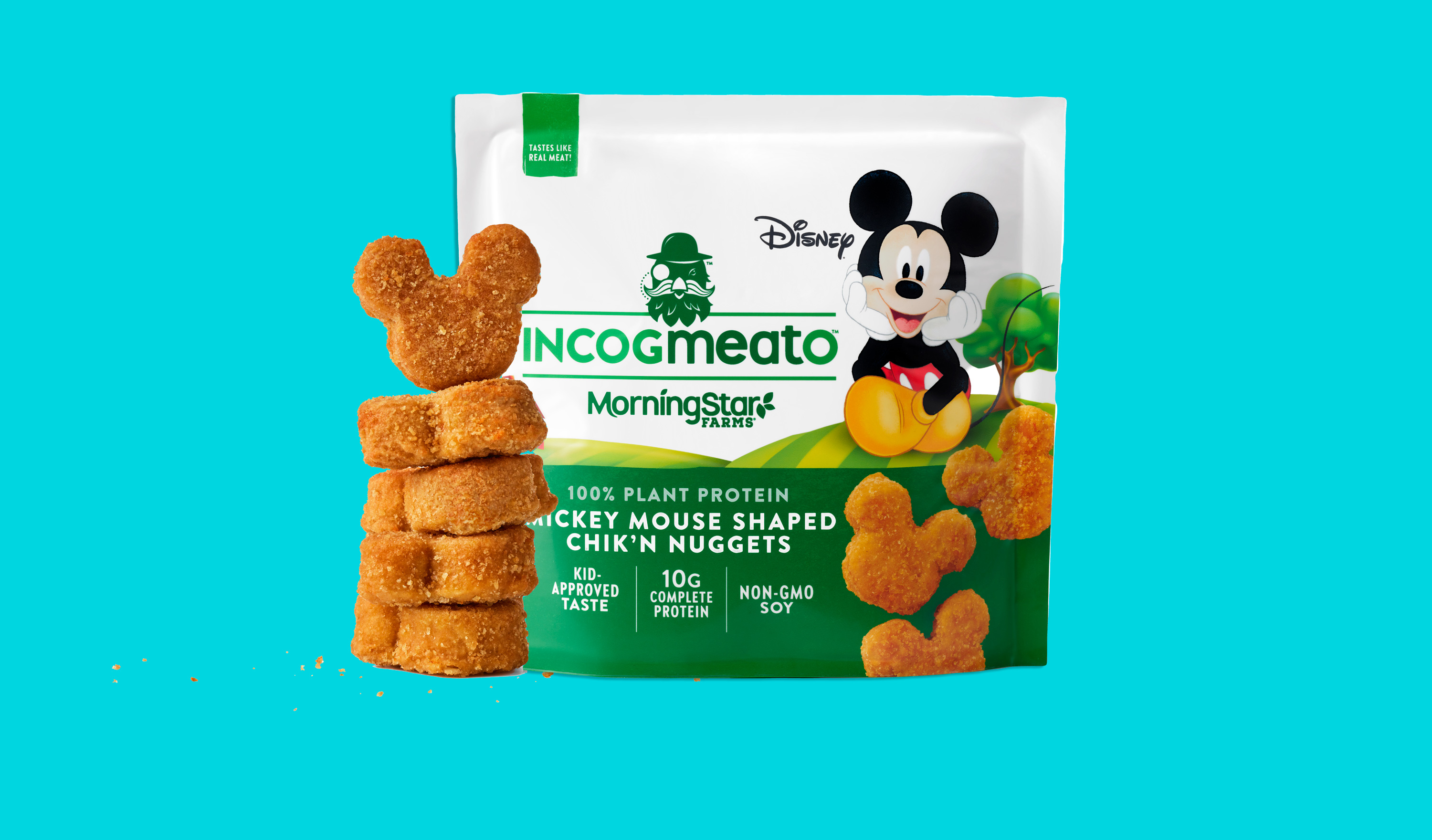 11 Incogmeato
Vegetarian protein company Morningstar Farms has ventured into the vegan meat realm with Incogmeato, which can be found in nugget and tender form in the frozen section of grocery stores. Try Incogmeato's Mickey Mouse Shaped Plant-Based Chik'n Nuggets if you're trying to get the kids along on your chicken-free adventures.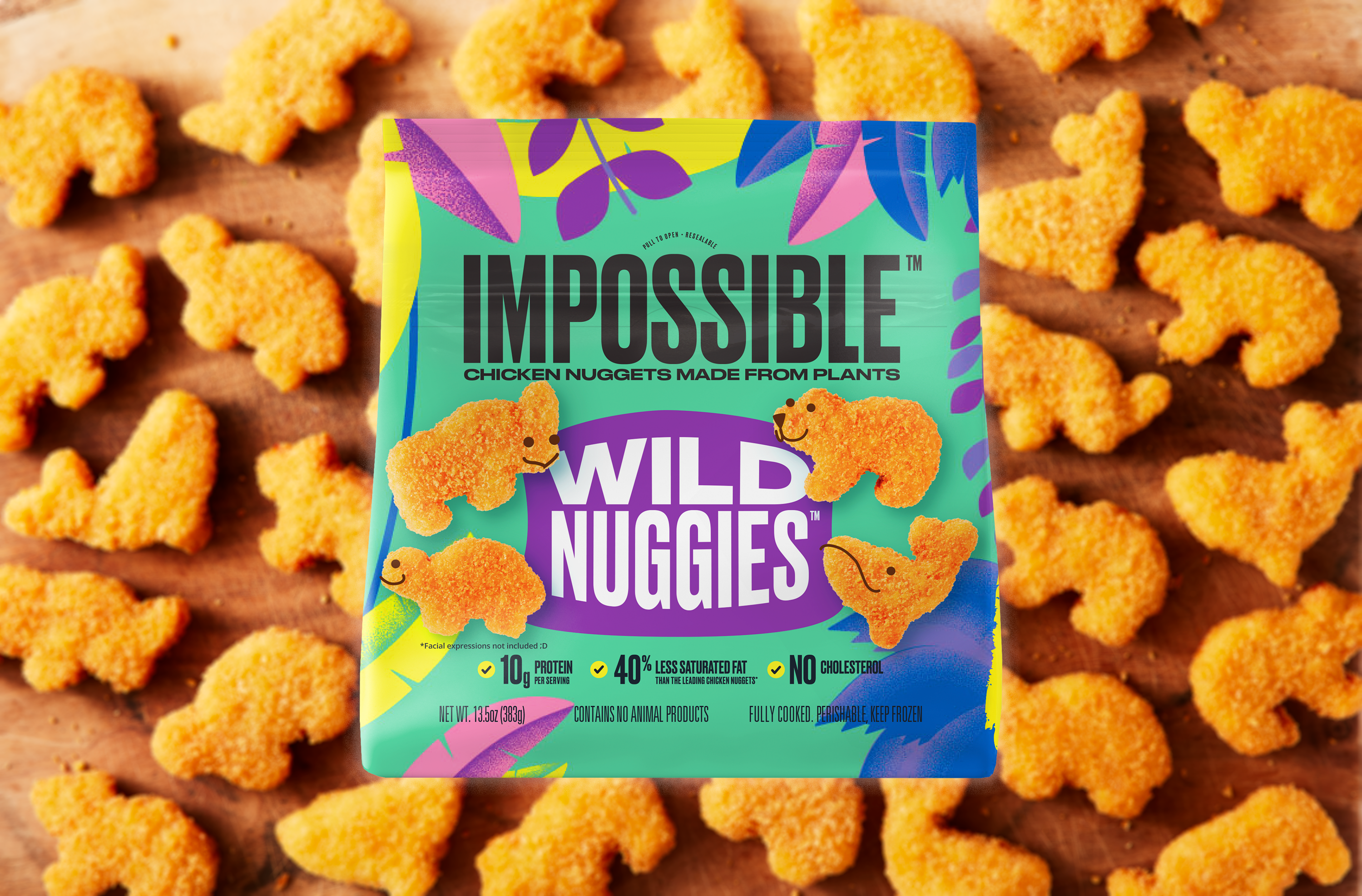 Impossible Foods
12 Impossible Foods
Known for the veggie burgers that so closely simulate ground beef, Impossible has ventured into the vegan chicken nugget market with two varieties. The next time you're craving nuggets, try Impossible's Wild Nuggies, breaded protein pieces that are cut in the shapes of endangered species like polar bears and black rhinos to remind people that they are saving the planet when they choose plant-based foods. 
For more vegan chicken, read:
The Ultimate Guide to the Best Vegan Chicken Brands
This Entrepreneur Aims to Put Chick-fil-A Out of Business
22 Vegan Fried Chicken Sandwiches That are Better than Chick-fil-A
Get FREE vegan recipes delivered to your inbox by signing up for our award-winning VegNews Recipe Club.
Sign Up
Get FREE vegan recipes delivered to your inbox by signing up for our award-winning VegNews Recipe Club.
Sign Up

link