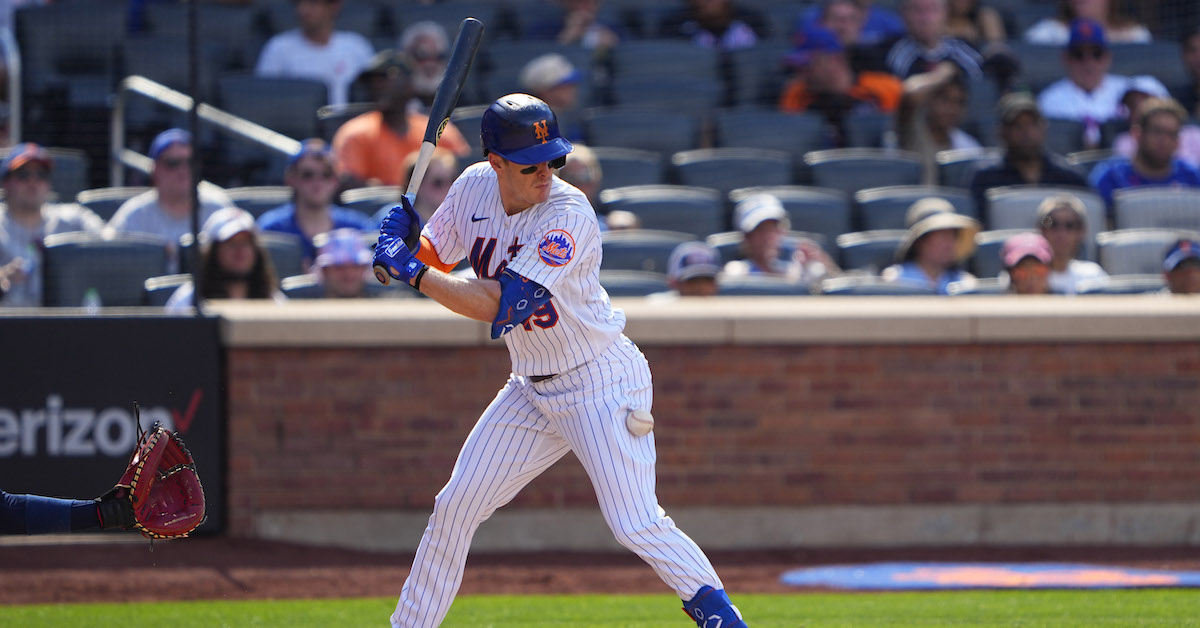 Baseball's Winter Meetings are in full swing! Now is time to make some trades. Now is the time to sign some free agents. You and I are going to put together a team. What should our team look like? Don't worry. I've already decided for us.
In 2022, Mets batters got hit by 112 pitches, setting a new single-season major league record. Ever since they broke the record, I've been wondering how many HBP a team could rack up if they made it their sole mission. That's our challenge.
We'll be building our roster using Steamer projections for the 2023 season, and we'll assemble a lineup with the goal of obliterating the Mets' record. We're going to get hit often and we're going to get hit with style. To get us in the spirit of the enterprise, I've named our new team the Cooperstown Contusions. Before you ask, yes, our mascot will be an anthropomorphic bruise: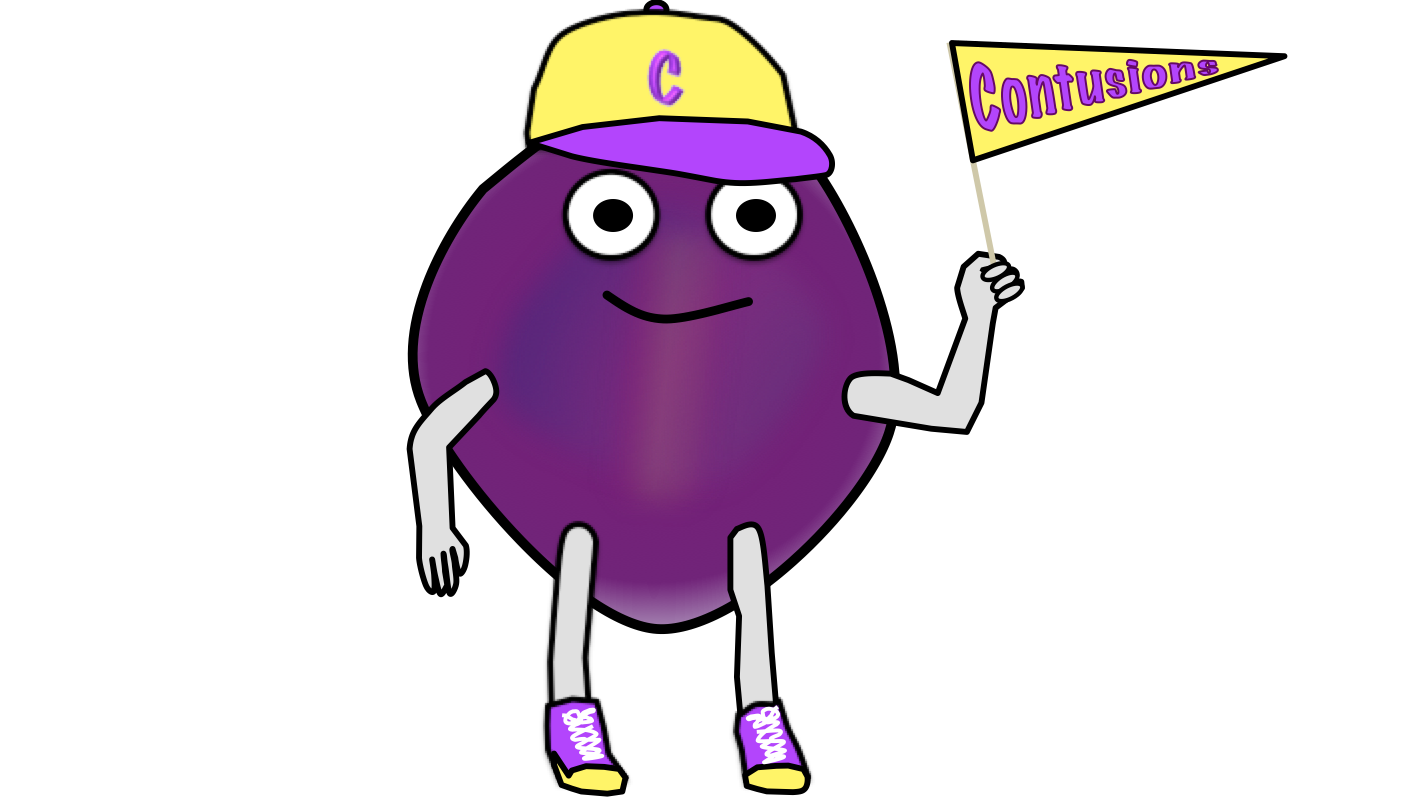 It takes a certain kind of player to post consistently high HBP numbers. You need to stay healthy enough to play a lot, but you also need to take 95 mph fastballs to some of your favorite body parts. We should probably take some safety precautions to keep our roster full of baseball magnets in good working order. Elbow protectors and shin guards will be mandatory. We'll make everyone wear David Wright-style super helmets, Giancarlo Stanton-style face guards, and Harrison Bader's mouth guard. Not Harrison Bader-style mouth guards — they'll all have to share Bader's mouthguard. Our budget isn't unlimited:

Because hands and wrists are particularly susceptible to injury from HBPs, we'll also mandate that our players wear Francisco Lindor's wrist guard, Jeff Bagwell's batting glove with the little pillow glued to the back, the thumb guard that Bryce Harper always seems to be eating when he's in the on deck circle, and several layers of bubble wrap.
Now that we've laid out the basics, it's time to put together a roster. For our first acquisition, we'll need a manager. Alex Cora had 90 career HBP, most among all current managers, so he's our guy. As for the players, we don't care whether or not they're free agents. We're all about the hit by pitch, so if we want someone who's already under contract, we'll go to the Winter Meetings in San Diego and politely throw baseballs at their general manager until they agree to a trade. Let's get started!
Catcher is easy. Willson Contreras led the majors with 14 HBP in the short 2020 season. He put up 14 again in 2021, and finished third in the league this year with 24. Contreras racks up HBP by hanging his arms out over the plate. In fact, he's done it so often that he's mastered the art of deflecting the ball straight off his elbow guard and into the catcher's mitt. He did so four times in 2022, including twice in one game on August 2. You have to pay close attention just to notice that these are not the same pitch:
Steamer projects first basemen Ty France and Anthony Rizzo for 19 and 18 HBP, respectively. Out of respect for his four Gold Gloves, we'll let Rizzo play first and move France to third base. Amazingly, Rizzo doesn't wear any protective gear, despite plunking his way into the record books via the extremely subtle tactic of standing directly on top of home plate. He holds the Cubs' all-time record, as well as their top three single-season marks. Rizzo has 201 career HBP, and he's got the pitch chart to prove it. He's the majors' active leader, and he has a decent shot at Hughie Jennings' all-time record of 287: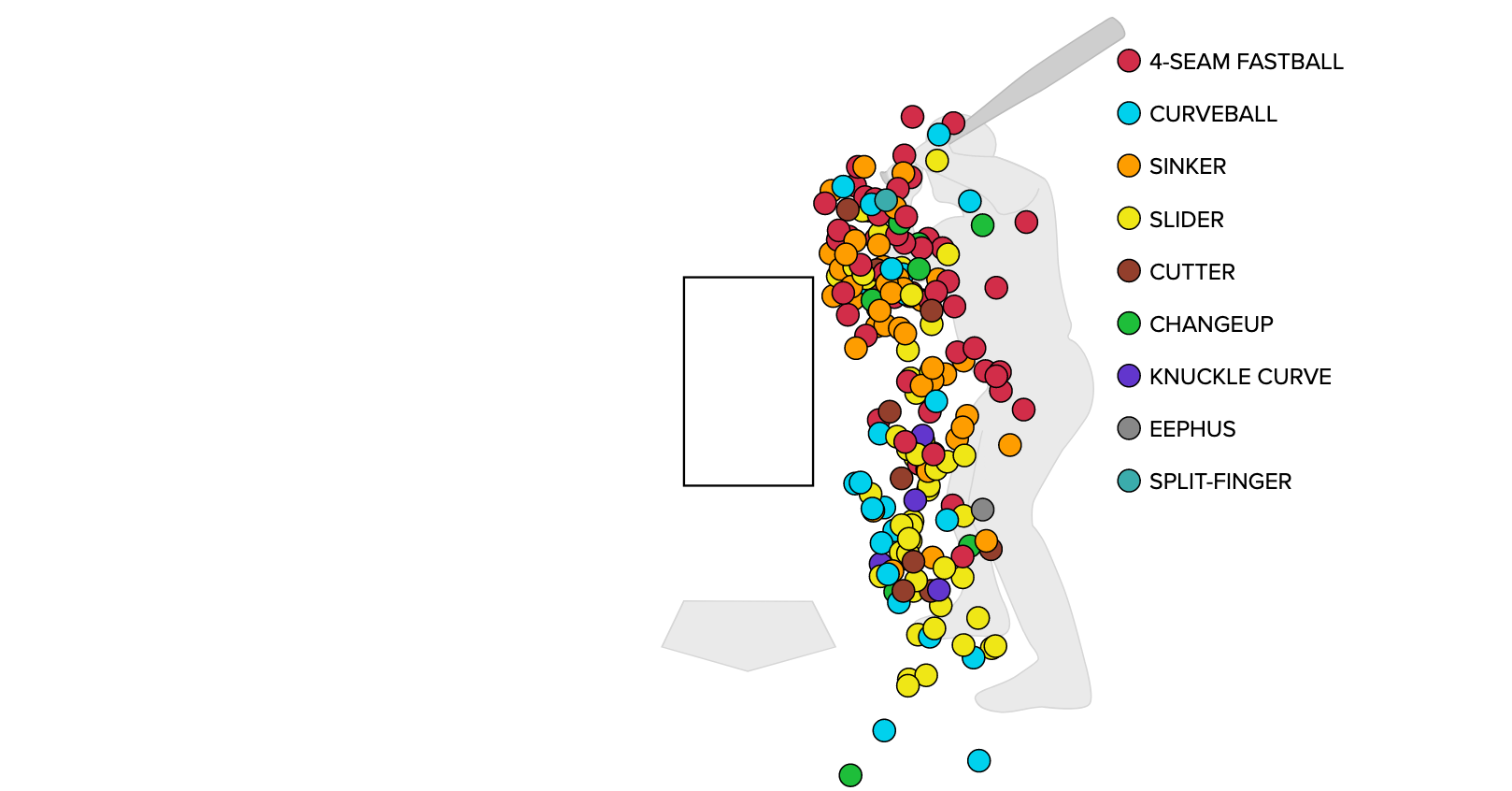 France has spent at least a few games at third in every season of his career, but he's by no means an expert, so we're likely to see a few extra balls bounce off him in the field. France holds the top two HBP seasons in Seattle history, but he's still a long way behind all-time leader Edgar Martinez. France has an extreme lean in his stance and load, so his upper half is very nearly over the plate by the time the ball arrives. Combine that with his deep crouch, and it often looks like France is trying to spoon with the strike zone: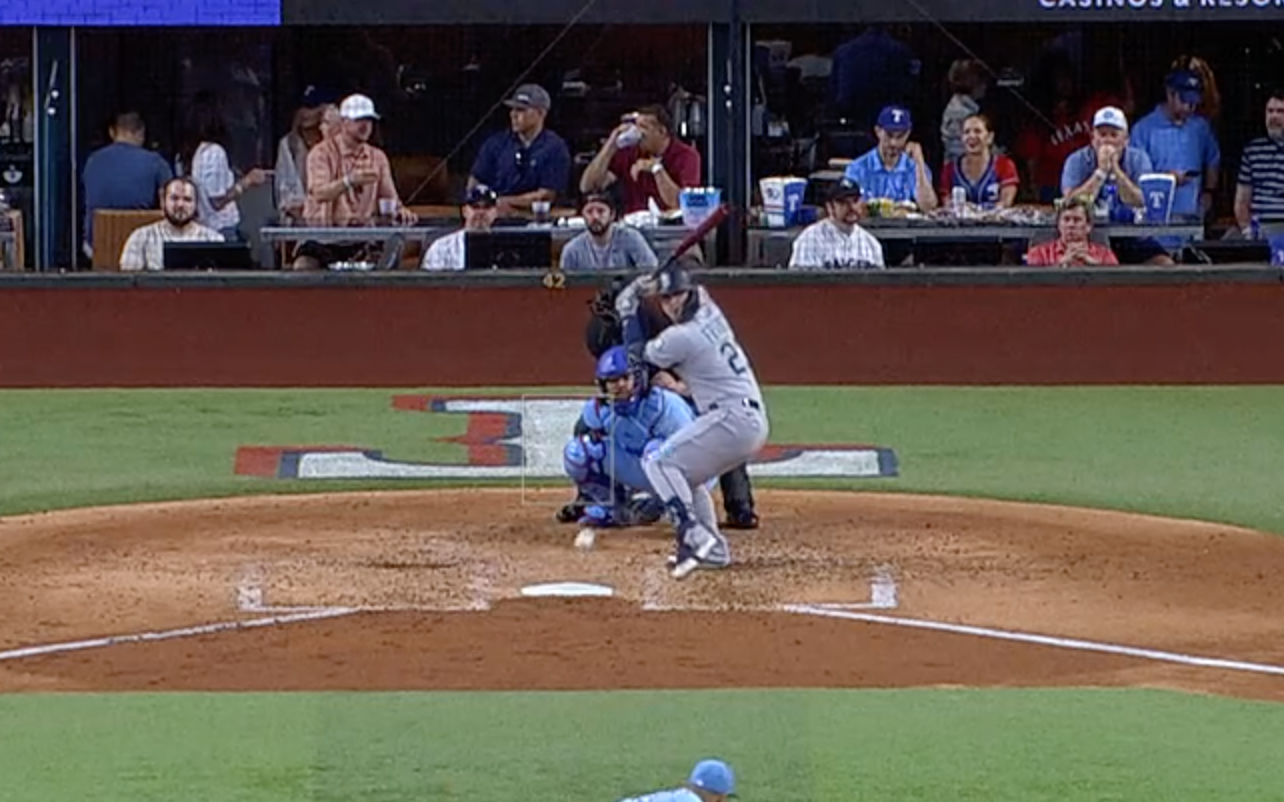 Jonathan India is the obvious choice at second base. He's averaged 13.5 HBP in his two big league seasons, and he's projected for 16 in 2023. However, India had a scare earlier this year. After taking a Drew Smyly fastball to the shin in the Field of Dreams game, he was airlifted to the hospital as a precaution against compartment syndrome. He turned out to be ok, but the Contusions will ask that he suit up in hockey pads just in case.
Andrés Giménez will be India's double play partner. The shortstop set Cleveland's single-season record with 25 HBP in 2022, and he's one of the rare heroes who have been hit by a pitch in the strike zone. What's his secret? Trying really hard to get hit. He'll drop his hands into the path of the ball, and do the move where you turn away from the ball while leaning in toward it. Giménez specializes in annoying pitchers. He led the league in HBP on an 0-2 count with four. When it comes to writhing around in pain while everyone else on the field points at the third base umpire and argues about whether that pitch was actually a strike, Giménez isn't just leading the league. He's destroying the competition. I counted nine such instances, or 36% of his total HBP. That's enough to make a collage: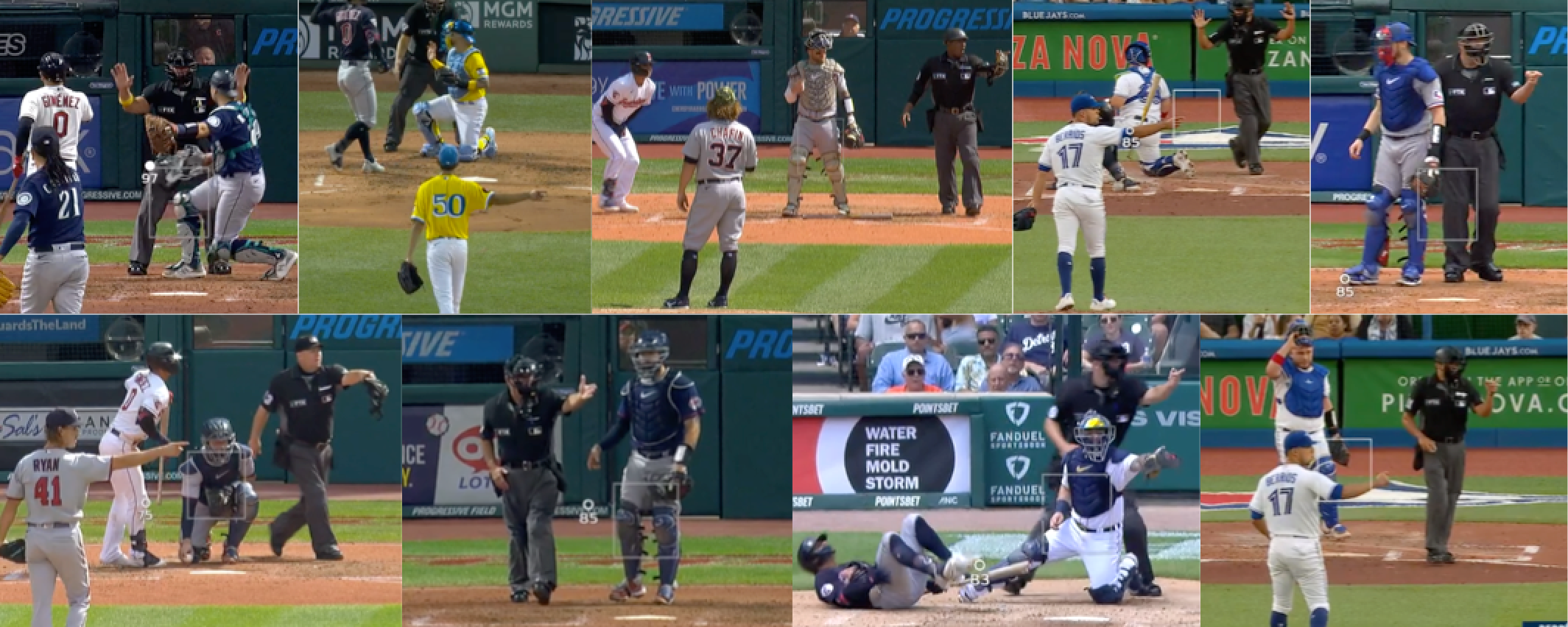 Next, we'll move to the outfield. This is exciting, because in left field is the crown jewel of the Cooperstown Contusions. Mark Canha holds the A's record for career HBP since they moved to Oakland. He set their single-season record in 2021, and then set the Mets' single-season record in 2022. After that one season, he's already tied for 13th on the Mets all-time list. Over the past four seasons, Canha and Rizzo sit atop the major league leaderboard with 83 HBP, and no one else is within 20. Over the past three seasons, Canha is in a league all his own. He led the league with 28 this year, and Steamer projects him for 20 in 2023.
Canha sets up close to the plate, but his main skill seems to be that he absolutely won't budge if you throw a ball at him. It's fun to watch all of his 2022 HBP in chronological order, because you get to enjoy hearing the SNY booth grow progressively more incensed as Canha keeps getting drilled over the course of the season. Asked last year why he was such a target, Canha started his answer by saying, "I'm not liked."
Canha isn't the only Met on the team. In fact, the outfield is all Mets, at least until someone finds Nimmo. Brandon Nimmo just barely snagged the last spot in the starting lineup, as he's one of four players projected for 12 HBP. It helps that he's the only center fielder of the bunch, and it also helps that he sprints to first after every HBP. No one in baseball is as excited as Nimmo about a free trip to first base, so he'll fit right in.
Starling Marte will start in right field. He's got 146 career HBP, and Steamer projects that he'll put up his third consecutive season with 13. Marte tends to bend forward at the waist as the pitch is coming in, which makes it pretty much impossible for him to avoid inside pitches. It also means that he gets hit on the hand quite a bit, so we'll really need to make sure he wears that bubble wrap.
Ramón Laureano rounds out the lineup at designated hitter. Despite not playing much, he averages over 18 HBP per 162 games. Laureano joins India as one of the select few players projected to get hit more in 2023 than they were this season. Steamer believes in those players so much. Specifically, it believes in their ability to get pelted with baseballs.
Until I watched all of Laureano's HBPs, I didn't know that a person could remove a shin guard passive-aggressively. He stands right on top of the plate, but that doesn't stop him from feeling so affronted when he gets hit that he sometimes needs to take a little walk to cool down. Once he does, he just drops his bat, shin guard, and batting gloves right wherever he's standing, like a kid who struck out and decided he doesn't want to play anymore.
Let's take a look at how our starting lineup stacks up:
Cooperstown Contusions Steamer Projections
| Player | POS | HBP | wRC+ | WAR |
| --- | --- | --- | --- | --- |
| Willson Contreras | C | 17 | 118 | 3.1 |
| Anthony Rizzo | 1B | 18 | 126 | 2.4 |
| Jonathan India | 2B | 16 | 106 | 2.7 |
| Ty France | 3B | 19 | 130 | 3.4 |
| Andrés Giménez | SS | 17 | 118 | 4 |
| Mark Canha | LF | 20 | 118 | 2.1 |
| Brandon Nimmo | CF | 12 | 131 | 4.7 |
| Starling Marte | RF | 13 | 116 | 3.1 |
| Ramón Laureano | DH | 15 | 109 | 2.6 |
| Total | | 147 | 119 | 28.1 |
Our starting nine is projected for 28.1 WAR, and that's before we even factor in the bench. Only seven teams put up more total position player WAR in 2022. The Contusions are going to kick ass and take lumps.
More importantly, our starting nine is already projected to blow by the Mets' record. That means we can use a different strategy to fill out our roster. We're no longer looking for sheer volume of HBP. We're looking for players who keep it interesting.
Seth Beer is our first bat off the bench, because at three HBP in 79 PAs, he's projected to get hit more often than any player in baseball. At 3.8%, Beer provides a league-best HBP rate, and a reasonable ABV.
Bader can be our fourth outfielder. He got hit just four times in 2022, but the four pitches that hit him were an average of just 17.55 inches from the center of home plate, or directly over the chalk of the batter's box. Bader wasn't waiting around for the ball to find him. Also, we want him on the team because we need his mouthguard.
The Contusions are going to roll with two catchers off the bench. Travis d'Arnaud had a career-best 11 HBP in 2022, but that's not the reason he made the team. We can't snub him after a flop like this, especially in the midst of the World Cup:
Bringing up the rear is Sean Murphy. In case you're wondering, I mean that extremely literally. Murphy is projected for 10 HBP next year, and he's coming off seasons where he posted 12 and 13. He also broke out as one of the best catchers in baseball, if that's your thing, but we want him for a different reason:
Murphy owes this baseball an apology. He absolutely attacked it. I want to know the exit velocity on that thing. No right-hander got hit further off the plate than Murphy did on this pitch, and he went full extension to make it happen. That pitch should've been behind Murphy, but Murphy's behind had other ideas. Never in my life have I seen a more accurate pitch chart: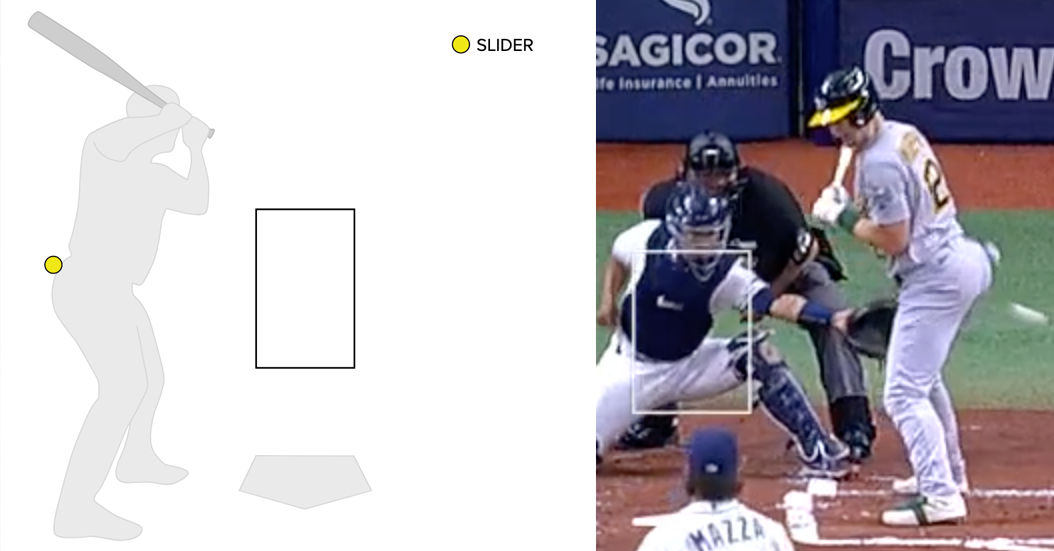 So that's our team. All in all, I'd say the Winter Meetings were pretty successful. Our team will lead the league in bruises, and we'll also be shockingly good on the rare occasions that we hit the ball instead of letting it hit us. We'll have to get to our pitching staff another time, but rest assured that they will be beaning some balls.
link