When the cravings for McDonald's strike, it's hard to turn them off. Sometimes you can go for something else and avoid the greasy McDonald's menu options, but there are some occasions where you just need to give in to the cravings and treat yourself to some of your favorite fast food. Even though most fast food is "unhealthy" by nature, there are still some relatively healthy McDonald's burgers you can try when you want to satisfy your cravings without going overboard.
In order to determine which McDonald's burgers are the healthiest, we spoke with Amy Goodson, MS, RD, CSSD, LD about which burgers would be the better ones to choose if you're craving it on the drive-thru line. While Goodson is clear that not all of these "healthy" burgers would be considered the healthiest options at McDonald's in general, she did choose a few burgers that weren't as bad for you compared to her choices for the unhealthiest burgers listed at the bottom.
How to choose a healthy burger at McDonald's
As Goodson mentioned, these burgers aren't necessarily the healthiest options on the McDonald's menu in general (for that, check out 8 Healthiest McDonald's Orders, According to a Dietitian). Fast-food burgers are naturally going to be on the higher end with calories, fat, saturated fat, sodium, and sometimes trans fat, and there are often lighter options to choose from. But if you're craving a burger, there are a few things to look for:
Saturated fat: This type of fat is naturally found in most animal products and is specifically higher in most red meat. The American Heart Association recommends limiting your intake of saturated fat to about 13 grams per day because this fat can lead to high cholesterol and an increased risk of heart disease when eaten in excess. Healthier burgers will be lower in saturated fat.
Trans fat: Trans fat is found in many fast food, frozen foods, and processed baked goods. According to the World Health Organization, the goal should always be to avoid trans fat and consume as little as possible. The WHO says that if you are going to eat this type of fat, limit it to no more than 2.2 grams per day. Many McDonald's burgers have some trans fat in them, but choose ones that have 1 gram or less.
Sodium: The FDA recommends that the average adult limit their sodium consumption to no more than 2,300 milligrams per day, or 1,500 milligrams for those with existing high blood pressure or heart complications. If you're looking for a better-for-you burger, keep sodium levels low.
Read on for our guide to the best and worst burgers on the McDonald's menu, and for more, don't miss 7 Healthiest Wendy's Orders, According to Dietitians.
The 5 Healthiest McDonald's Burgers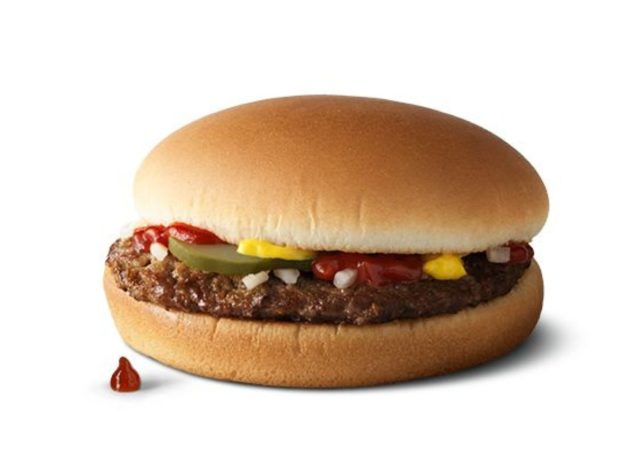 Per burger: 250 calories, 9 g fat (3.5 g saturated fat), 510 mg sodium, 31 g carbs (1 g fiber, 6 g sugar), 12 g protein
"The hamburger tops the charts as the burger with the least calories and fat that McDonald's has to offer," says Goodson. "At 250 calories, 9 grams of fat, and 12 grams of protein, this could fit into almost anyone's meal plan without breaking their caloric bank. Plus, it's a decent blend of carbohydrates, protein, and fat. If you need a side item, apple slices are the healthiest partner."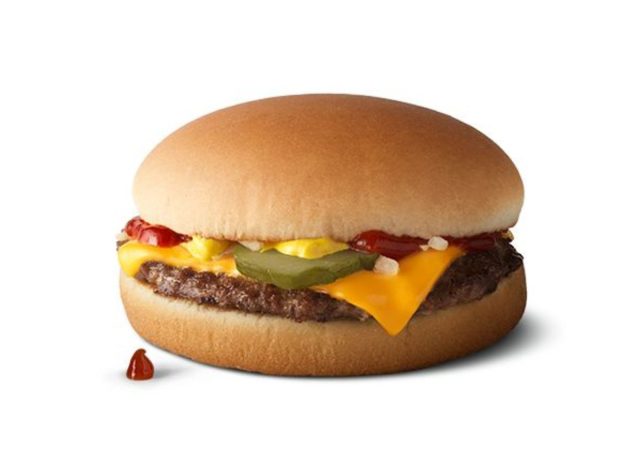 Per burger: 300 calories, 13 g fat (6 g saturated fat, 0.5 g trans fat), 720 mg sodium, 32 g carbs (2 g fiber, 7 g sugar), 15 g protein
"If cheese is your thing, then the McDonald's Cheeseburger might be the choice for you," says Goodson. "With 300 calories, 13 grams of fat, and 15 grams of protein, it can be a calorically-conscious choice for the cheese lovers out there. Similar to the hamburger, apple slices are the best pairing to go with this burger."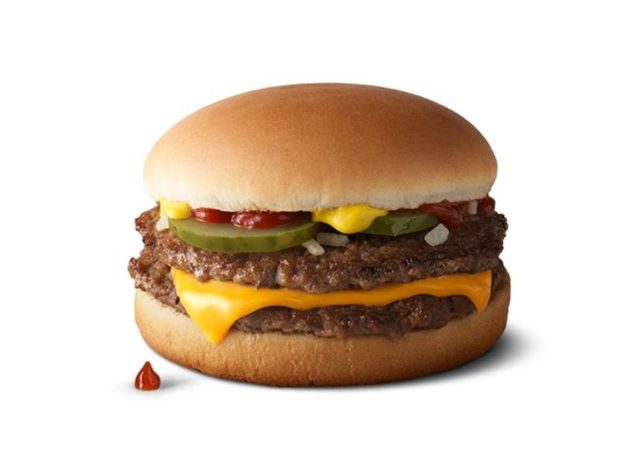 Per burger: 400 calories, 20 g fat (9 g saturated fat, 1 g trans fat), 920 mg sodium, 33 g carbs (2 g fiber, 7 g sugar), 22 g protein
"If you are looking to up your protein game and still stay in a fairly normal lunch/dinner calorie range, the McDouble can be a good choice," says Goodson. "With 22 grams of protein and 400 calories, it gives you an extra patty of meat to boost the protein and iron content of the burger. This could be a meal alone for many, but if you need a side, add apple slices. With 920 milligrams of sodium, the goal should be to surround this burger with sodium-free foods."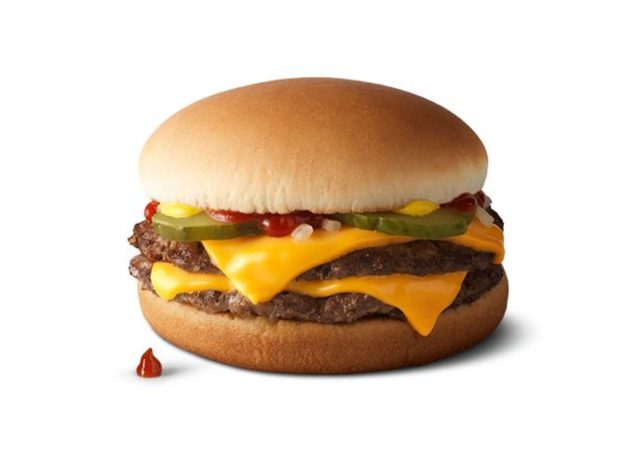 Per burger: 450 calories, 24 g fat (11 g saturated fat, 1.5 g trans fat), 1,120 mg sodium, 34 g carbs (2 g fiber, 7 g sugar), 25 g protein
"Coming in close to the Quarter Pounder, the Double Cheeseburger wins the health game because, in comparison, it is lower in calories, total fat, and sodium," says Goodson. "With 450 calories and 25 grams of protein, it fits a fairly normal 'meal profile', but it is higher in saturated fat, total fat, and sodium compared to some of the smaller burgers, so likely have some water and call this a meal."6254a4d1642c605c54bf1cab17d50f1e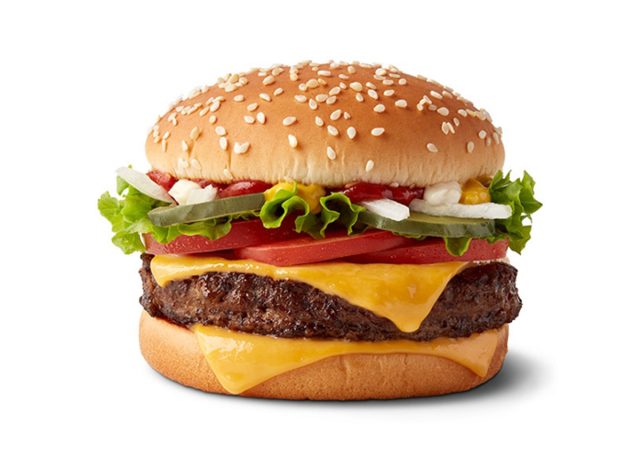 Per burger: 630 calories, 37 g fat (14 g saturated fat, 1.5 g trans fat), 1,210 mg sodium, 44 g carbs (3 g fiber, 11 g sugar), 30 g protein
"While higher in calories than the regular Quarter Pounder, this burger boasts of crisp leaf lettuce and Roma tomato slices making it a win for veggies! This burger would be great for the heavy exerciser or young athlete who needs more calories and sodium at a meal," says Goodson. "With 30 grams of protein and 630 calories, it's definitely on the higher end for most average adults, but for those burning lots of calories, this can fit. Pair it with apples and water or even milk if you are trying to amp up your protein."
The 3 Unhealthiest McDonald's Burgers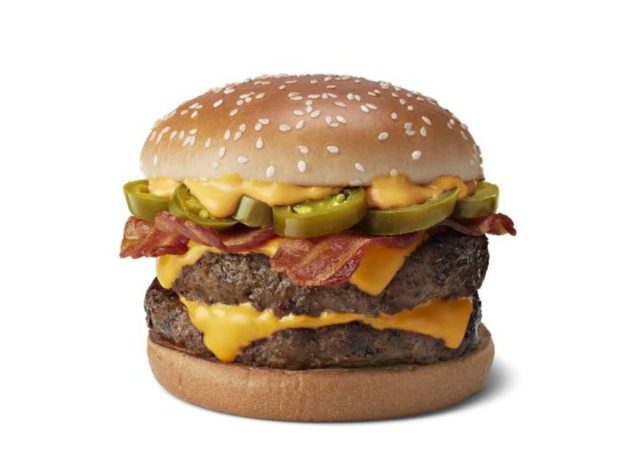 Per burger: 870 calories, 54 g fat (24 g saturated fat, 2.5 g trans fat), 1,970 mg sodium, 41 g carbs (2 g fiber, 8 g sugar), 55 g protein
The Cheesy Jalapeño Bacon Quarter Pounder with Cheese Double is the highest-calorie burger on the menu at 870 calories," says Goodson. "While it has 2.5 grams of trans fat (the goal is none), it also contains 1,970 milligrams of sodium for one burger, not including any side items."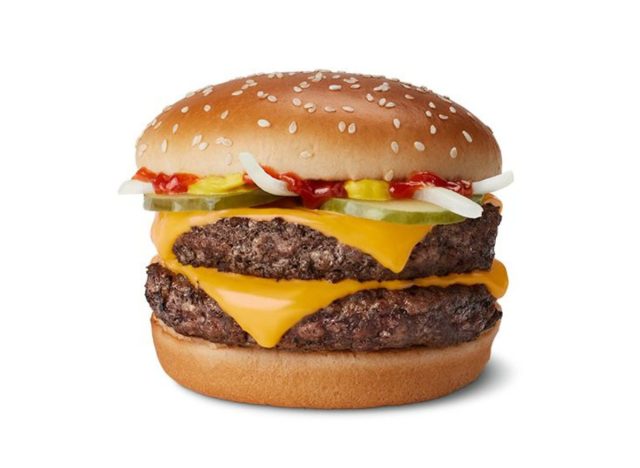 Per burger: 740 calories, 42 g fat (20 g saturated fat, 2.5 g trans fat), 1,360 mg sodium, 43 g carbs (2 g fiber, 10 g sugar), 48 g protein
"The Double Quarter Pounder with Cheese features two quarter-pound patties, onion, pickles, and two slices of cheese on a sesame bun," says Goodson. "This burger alone is 740 calories, which includes 42 grams of fat and 2.5 grams of trans fat. This amount of fat is 2/3 of the Daily Value based on a 2,000 calorie diet—aka too much for one food item and one meal."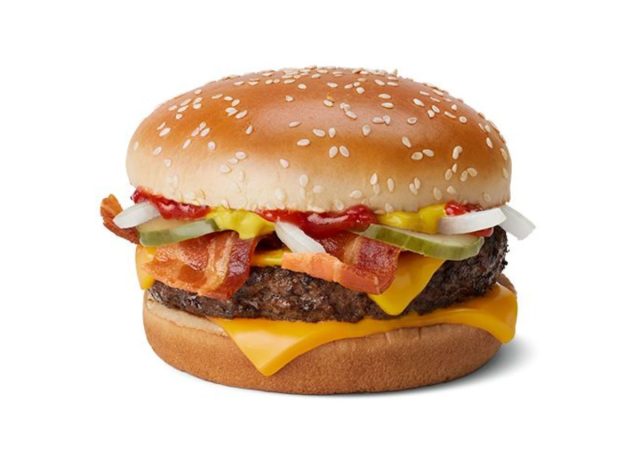 Per burger: 630 calories, 35 g fat (15 g saturated fat, 1.5 g trans fat), 1,470 mg sodium, 43 g carbs (3 g fiber, 10 g sugar), 36 g protein
"The Quarter Pounder with Cheese and Bacon includes 630 calories and 35 grams of fat," says Goodson. "A Quarter Pounder with Cheese and no bacon is a better option to reduce fat and sodium levels."
link