Saturday, June 4: Readers react to the provincial campaign; 'monstrosities' on the Queensway; the future of Lansdowne. You can write to us too at [email protected]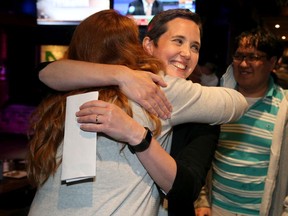 Article content
Time to overhaul the electoral system
Article content
On Thursday night, the Progressive Conservatives and Doug Ford won a "resounding" victory in Ontario, capturing 83 of the 124 seats or 67 per cent or the total, but they earned less than 41 per cent of the votes cast.
The NDP won 31 seats and the Liberals won only eight, but the Liberals received more votes than the NDP. They were both near 24 per cent of the total vote but the NDP won 25 per cent of the seats and the Liberals only about 6.5 per cent. The Greens won only one seat even though they received almost six per cent of the vote.
This is ridiculous. It's time to overhaul the electoral system so that that the results represent the will of the people.
David Sale, Pakenham
Let's honour our history of voting
We should remember that Ontario (starting as Upper Canada) has been celebrating elections since 1792. It's true that at the beginning, the assembly did not have strong powers, and also only land-owning males were allowed to vote. Still, this tradition surpasses what has happened in many other countries. Let us honour this exceptional tradition of 230 years!
Article content
Luigi Logrippo, Ottawa
Do we really still need election signs?
The election is over and in the next couple of days all of those election signs will be removed and thrown in the garbage. Were the signs of any use? Maybe they were before there were newspapers, but surely, in this era of 24-hour news and social media, there are many other ways for people to identify their local candidates.
And if they are still useful in this sense, is there really a need for so many signs? One of my local candidates plastered the guardrail at one intersection with dozens of signs. As an environmentalist, I found it a huge turn-off.
Next time around, can we move into the 21st century and do away with election signs? The results might even be better for some candidates without them.
Article content
Kathy Bol, Ottawa
Why weren't we talking health care?
Last week, a relative ended up in emergency at The Ottawa Hospital Civic campus by ambulance. Fifteen hours later, my relative saw a doctor. There was only one resident doctor working that evening.
Luckily, my relative's situation was not life-threatening but unfortunately that meant new, more serious cases continuously pushed him back in line. What on Earth is going on with our health-care system and why weren't we talking about it — big time — during this Ontario election?
Sheila Petzold, Ottawa
So much for 'accessible' polling stations
Elections Ontario has a very peculiar idea of what constitutes a wheelchair-accessible polling station. In Ottawa-Vanier, I found myself faced with at least 30 steps. The building does have a side ramp, but it is not visible from the main entrance, there is no sign, and in any case one can only enter that way if one has a key. There was nobody stationed outside to offer assistance. Had a resident not come along and kindly let me in, I would have been unable to vote.
Article content
Veronica Harvey, Ottawa
Having a personality can help a politician
Here's a lesson for the losing leaders: charisma.
The combined total of charisma of the opposition party leaders, including that of the well-spoken but charismatically challenged Mike Schreiner, would make Absolute Zero seem warm. That abyss of personal appeal has allowed Doug Ford, with his happy-hour politics, to hurdle over their failing candles not once, but twice.
Like them or not, there are federal leaders and wannabes with gobs of style and charisma. Choose wisely with this lesson in mind at your conventions.
Thomas Brawn, Orléans
Let's put murals on these ugly buildings
Re: Giant LRT shed called 'white monstrosity' spoiling best view of Ottawa, May 28.
Article content
I am following up on the unsightly presence of industrial-looking white transportation storage structures occupying previous grassy open fields off the Queensway. I, too, noted how they scar the landscape. Trying to be pragmatic, I realize and will accept the utility of said buildings.
I would like to propose that the white albatrosses be "prettied up" and made more pleasing to the eye. Might lovely, environmentally themed murals be installed by local creative artists? Indeed, a contest of sorts could generate public enthusiasm and input. The area is close to the Nepean National Equestrian Park and Wesley Clover Parks, which lend itself to potentially wonderful pictorials.
Amelina Gerebizza, Kanata
Careful: The graffiti gods may strike
Article content
That "light grey" building has "Graffiti Me Up" written all over it.
Susan Gerrard, Nepean
Artists could paint the missing scenery
I could not agree more with Kelly Egan's article. Could a solution be to call this a "white canvas" for the use of local artists to submit ideas to create a more acceptable view? Possibly they could paint the pleasant scenery that the current "monstrosity' has blocked from view. I wonder if the city or project management officials might agree?
Clifford Board, Stittsville
'Monstrosity' is in the eye of the beholder
I note with interest that a train shed is considered a monstrosity, while a 10-lane expressway — partial cloverleaf interchange and all — is assumed to be just naturally there as part of the beautiful landscape.
Article content
Eric Smith, Ottawa
Let's get Lansdowne right this time
I don't live in the neighbourhood but I'm frequently at Lansdowne and enjoy all it has to offer. After the initial revitalization, it became my go-to destination for drinks, dinner, sports and entertainment.
I'm not disputing the fact the arena and north-side stands are in dire need of repair. In fact, I haven't heard anyone dispute that fact. What I don't understand is why we didn't get it right the first time around. We knew then what we know now. The city's facilities at Lansdowne are old and in need of replacement. We now have an opportunity to fix that mistake.
This time around, it is my sincere hope we do the job properly and in its entirety, enabling residents to continue to gather at Lansdowne for many, many years to come.
Article content
Tammy Laverty Hall, Ottawa
Make a roof part of the Lansdowne plan
I have attended CFL games across Canada for more than 50 years and am a Redblacks season ticket holder. I believe that the game-day experience at TD Place is unparalleled in the CFL. The revitalization of Lansdowne Park has transformed the fan experience not only for football, but for other events. It has brought life to what was an outdated facility in a vast parking lot.
The Lansdowne 2.0 proposal is a much-needed step in the facility's evolution and must meet the community's needs for years to come. So all the more reason to get things right from the start. Which is why I and other Redblacks' fans are concerned that the proposal does not include a roof over the new stands. Inclement weather is the reality for outdoor events in Canada. Football can be played in heavy rainfall or blizzard-like conditions. Cover for fans is not a luxury but a key factor in contributing to the fan experience, which is important for promoting the facility's use. For this reason all new stadiums in Canada (Regina, Winnipeg, and Toronto) have partial roof canopies.
Article content
I call on city council and the Ottawa Sports and Entertainment Group to make a canopy roof an integral part of the new plans.
Tony Simulik, Orléans
School board must heed provincial guidance
Re: Unmasking an attack on democracy at the public school board, June 2.
Tim Abray misses the mark in calling the school board undemocratic. Contrary to his belief that "board trustees are its elected masters," it is in fact the province of Ontario that ultimately serves in that role.
If one wishes to argue an undemocratic moment, it would be when the Ottawa-Carleton District School Board veered away from the provincial directive of removing the mask mandate. That directive was guided by the Ontario Science Table. As Ontario's chief public health officer, Dr. Kieran Moore, stated, "You can't mandate masking forever. It has to be an individual choice based on risk assessment."
Article content
The decision of the public school board to update its masking policy to that of "strongly encouraged" was the right one, and falls in line with Ottawa Public Health guidance, and other school boards in the province. It was not a casual move or anti-democratic.
These last few years have been difficult on everyone, but it is important to stay the course we (as a province) have chosen. That is the directive that needs to be followed.
John Vroom, Ottawa
Storm showed the limits of EVs
Welcome to the world of electric cars and cordless tools.  Unless Hydro One puts some serious money into improving its infrastructure, and if Mother Nature keeps throwing serious storms our way, the future of electric cars and cordless tools doesn't look very healthy.
Article content
We had seven days without electricity and, days later, the hydro utility sent us a bill. Just keep sending your money, folks. Is it possible a lot of our dollars go to management salaries?
B.A. Relfe, Clayton
Privilege of rank shields misbehaviour
Re: Military has ignored past sexual misconduct reports — will that happen again? May 30.
Canada's military is satisfied with the status quo, thank you very much, and for a very good reason. The respect and power that rank creates shreds all consequences of bad behaviour. The game is always rigged in favour of rank. The federal public service is not much different.
Brenda Turner, Orléans
Don't keep spending money on war
Re: Canada eyes shells for Ukraine, May 31.
This article, about our "officials talking to South Korea about a deal worth up to $500 million" to purchase 100,000 artillery shells, strengthens my belief that the end result of this nonsense war is the death and suffering of Ukrainians and Russians alike; a complete loss of economic opportunities worldwide; a shortage of supplies; sky-rocketing inflation; and a renewed rush by our beloved country Canada and NATO to place orders for new weapons. All to either force regime change in Russia or weaken it militarily.
Article content
With all due respect, the only winner after all this will be American defence firms. I'd rather see my tax dollars spent on peaceful solutions and the common good for all than on enriching the weapons manufacturers regardless of who those merchants of death are.
Badih Shadid, Ottawa
Redirect resources to the environment
Where does Prime Minister Justin Trudeau find the $500 million to pay for shells to prolong the war in Ukraine? Canada has already sent more than $1 billion worth of aid to that country.
In Canada, we are now facing the long summer of forest fires. Surely we need to start spending our resources on improving our forestry practices?
1. Clear-cutting must be forbidden: Some trees must be left to mature and deciduous trees must be left as firebreaks.
Article content
2. Replanting: Lumber companies must be required to replant the forest, not just the trees they make money from.
3. Railways must be required to look after their tracks: by keeping them clear of straw and any other debris that might catch fire. Such legislation should be enforced by government police who patrol the tracks for fires and fire hazards. This prevention strategy is used in Finland.
Margaret Tyson, Ottawa
Do better for Afghans stuck in hiding
Re: Afghan activist stuck in hiding, May 30.
The story of an Afghan human rights defender in hiding is one of thousands in countries neighbouring the misogynist Taliban-controlled country.
Vulnerable families and individuals who were forced to flee are waiting for Canada to fulfil its promise of bringing 40,000 for resettlement here. The situation remains extremely dangerous and urgent, but the pace of Canadian action remains slow and bureaucratic.
Article content
What is stopping the federal government from adding more staff at Canadian embassies and high commissions in nearby counties; speeding up approvals by doing the necessary medical and security approvals in one place at the same time – not months apart; and issuing expedited visas as is being done for Ukrainians?
Time is critical. Afghans are paying $1,500 each for a one-year visa to neighbouring countries. The catch is they must return to Afghanistan every 60 days to renew. If they don't, and are caught, they can be deported or detained. They fear not having money for rent or food. They fear the knock on the door. We know these stories from the past. Canada can, and must, do so much better.
Fran Harding, Ottawa
A constitutional mess lies ahead
Re: Letter, Queen's longevity may doom successor, June 2.
A letter-writer warns us to steel ourselves for the monarchy to wither and fade once we lose the Queen. What we should really steel ourselves for, I believe, is the inter-provincial wrangling,
interminable federal-provincial conferences and general discord that would inevitably follow the monarchy's demise as Canada transitions to … what?
Thomas Frisch, Ottawa
link